Vancouver Real Estate vs. The Virus - April 2020 Update
Vancouver Real Estate vs. The Corona Virus - April 2020 Update
April 9, 2020
The Vancouver Real Estate market continued its upward pace in March. Average property prices increased for a 6th month in a row, up $43,100 or 4.2% since September. Some areas like Mount Pleasant hit all-time record high prices. Sales volumes spiked 47% from the year before and multiple offers became the norm again as every property type registered a sales ratio in the 'Sellers Market' category.
But that, like all aspects of our lives, started to change around mid-March.
The Covid-19 Coronavirus has impacted virtually every industry, and Real Estate is no exception.
The impacts started to be noticed in mid-March when sales volumes began to decrease. And while the March numbers finished positive, April will paint a very different picture.
Let's have a look at what the early numbers are showing us.
SALES VOLUMES
The first indicator of change in Real Estate is most commonly the amount of sales. As sales increase prices generally follow around 6-8 months later, same for lower sales volumes and prices.
In March 2020, sales volumes averaged 138 units in the first 10 business days of the month. That dropped to 93 sales in the last 10 days of the month.
As I write this on April 10th, the average daily sales was 62 per day for the first 7 business days in April. Should that number maintain, total sales would amount to around 1,364. Well below last years 1,827 and almost 50% below the 10 year average of around 2,600 sales. But chances are, this current average of 62 sales per day will lower even further.
Also, keep in mind that the sales data has a bit of a lag. On average, the time between an offer being accepted and going firm, and being reported to the Real Estate Board is around 15 days. So the majority of the sales recorded so far in April were from homes that sold in late March.
Still, this means that 612 homes totalling $550,000,000 have sold well into the time that we have been quarantined.
Sales Volume Chart - January 2019 to March 2020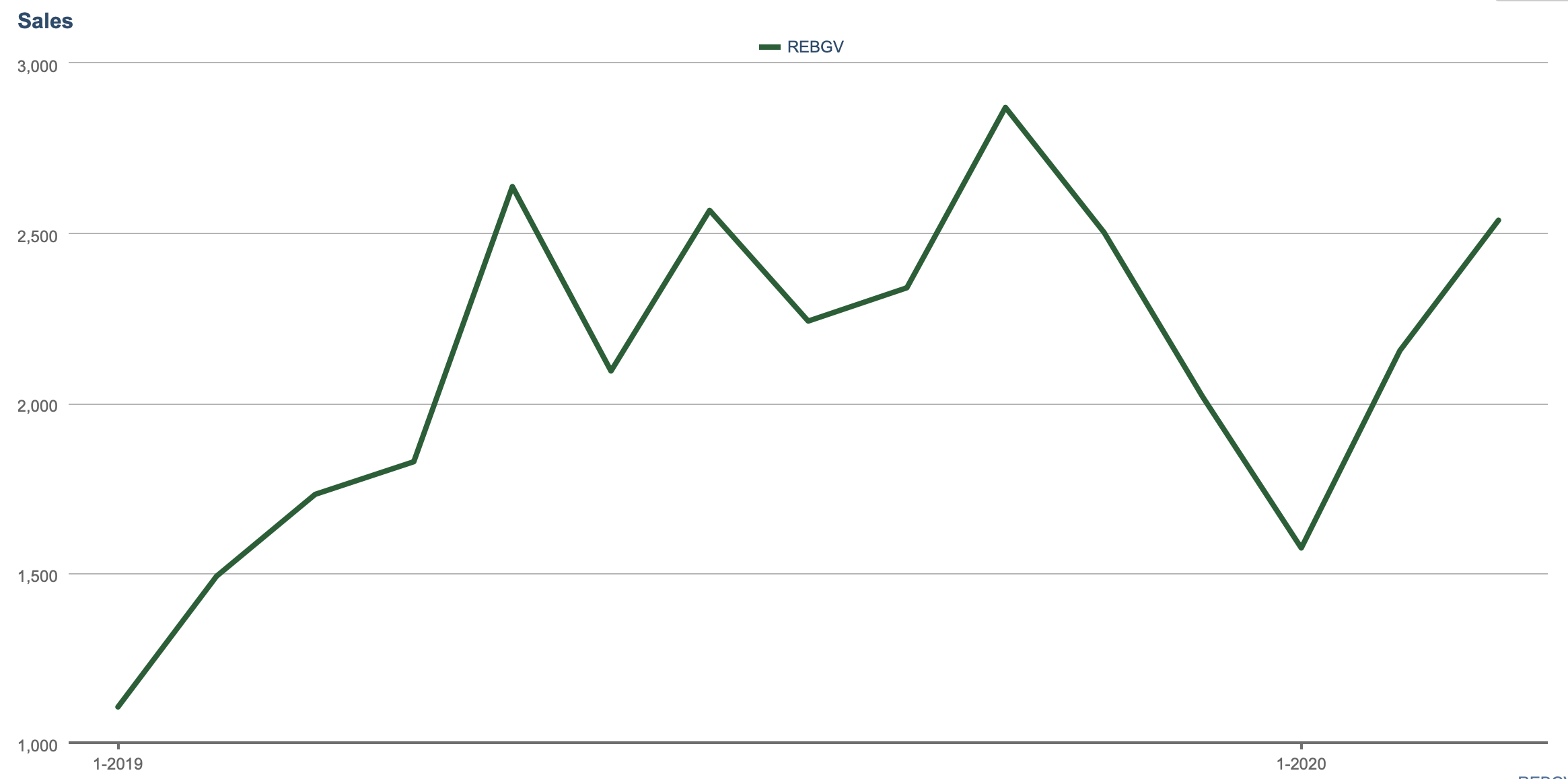 INVENTORY
Real Estate works largely on a supply vs. demand principal. Less demand = higher supply that results in lower prices and vice versa. Supply has been in very short order dating back to December and has been a contributor to the higher prices. The March 2020 inventory, or supply, was 25% below the 10-Year average.
March saw an average of 200 new properties listed every day. By April 10th, we are seeing an average monthly of 133 new listings per day. Even at that pace, it will be a 10 year low for new listings in the month of March, and I believe that number will drop off dramatically further.
Understandably, many sellers would rather wait this out and list when the virus is past us.
So while the demand is dropping quickly, so is the inventory.
Total Inventory Chart - January 2019 to March 2020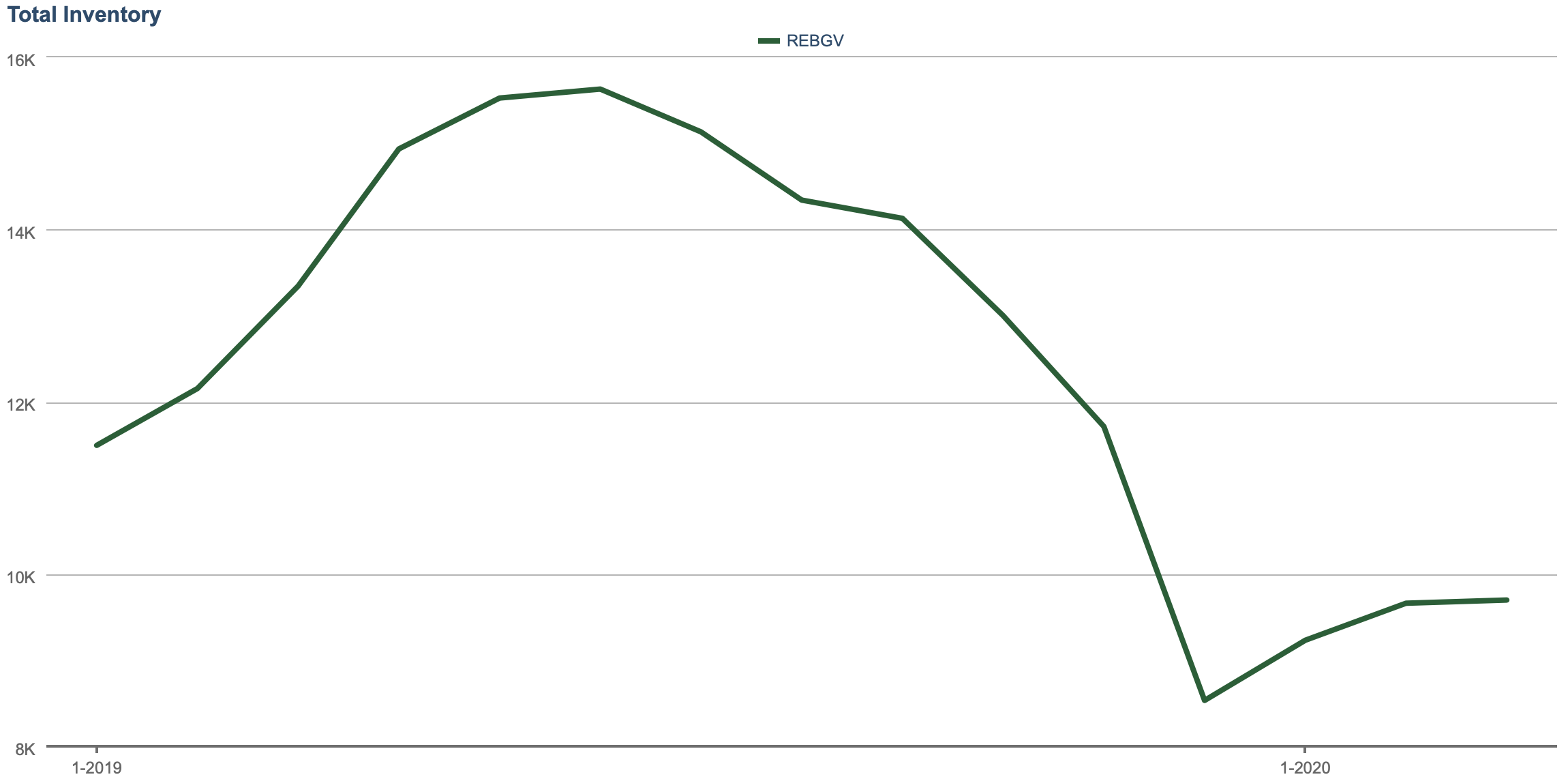 SALES PRICES
As mentioned earlier, sales prices have increased for 6 months straight. Prices are up an average of $43,100 since hitting bottom in September 2019. The average Greater Vancouver home sold for $1,033,700 last month.
While prices normally follow a few months after drastic sales volume shifts, if the first 10 days of April are any indicator, we may be in for a shock.
From April 1 - 10, 2020 the average sale price is $896,894. Over 13% lower than the month prior.
But equally shocking, 23% of the homes bought in April sold at or above asking price.
People may simply be buying lower priced properties so far this month.
While there is still a lot of data to come in for the month, this is a number we will all be watching closely.
Average Home Price Chart - January 2019 to March 2020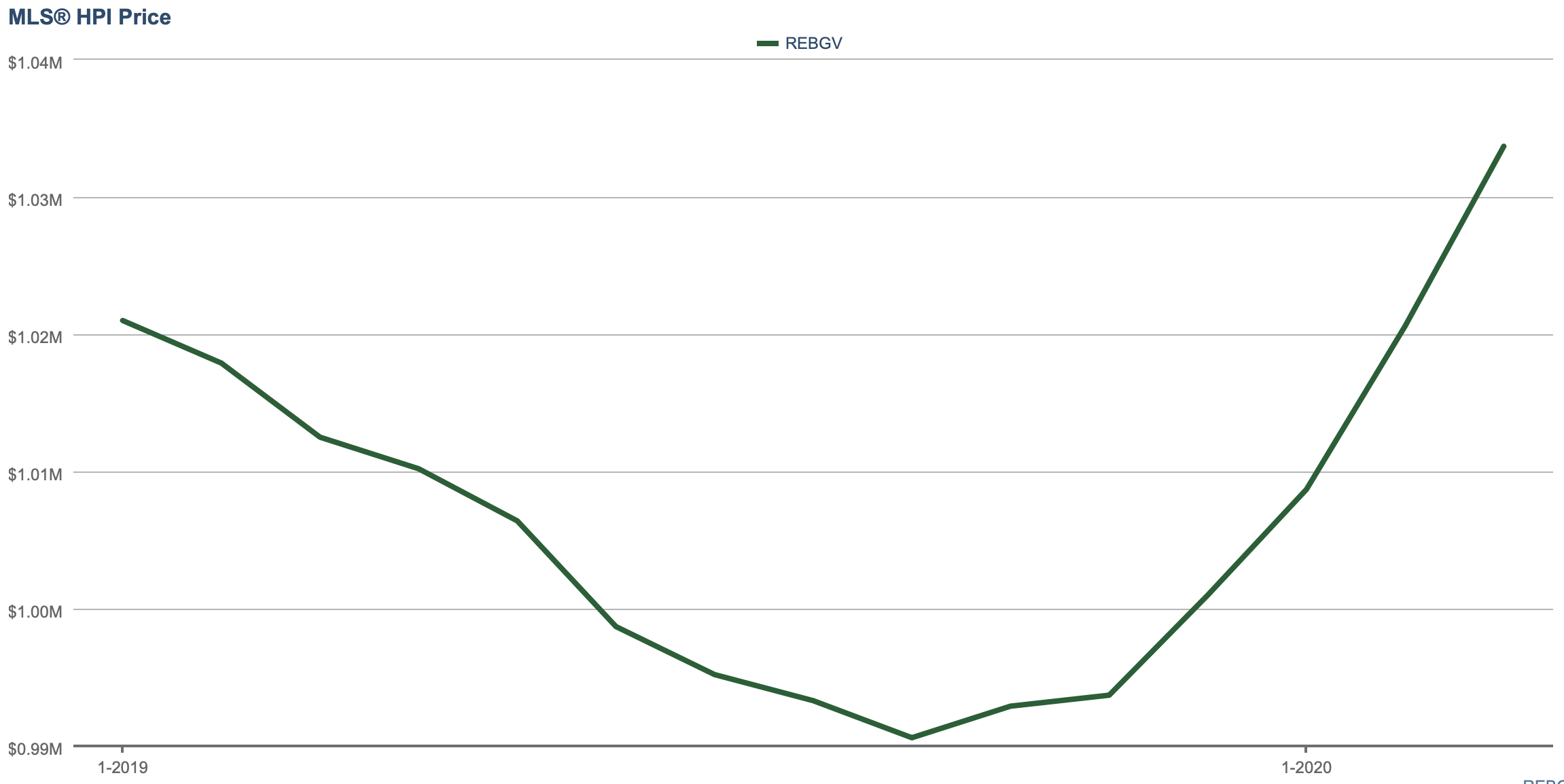 EMPLOYMENT
Canadian employment plummeted in March, falling by 1.01 million jobs (-5.3%, m/m). The unemployment rate increased 2.2 percentage points from 5.6% to 7.8%, as government measures intended to limit the spread of COVID-19 led to the closure of non-essential businesses and travel restrictions.

Job losses were unsurprisingly right across the country, with the largest declines in Ontario (-403k), Quebec (-264k), BC (-132k) and Alberta (-117k). The decline in employment was driven by the private sector (-830k), while the public sector reported a smaller decline of 145k and self-employed were down by 32k. The shock to the Canadian labour market resulting from physical distancing measures hit certain sectors harder, which included accommodation and food services (-24%), information, culture and recreation (-13%), educational services (-9%) and wholesale/retail trade (-7%). Compared to the same month last year, Canadian employment was down by 4% (-765.2k).
Some economists expect unemployment to hit 15%, a new record high. Even that number may be too conservative.
In a 'normal' market there is an almost direct correlation between unemployment levels and home prices at a 1:4 ratio. Historically, for every 1% increase in unemployment, there has been a 4% decrease in the average home price. Will a 10% jump in unemployment equal a 40% drop in housing prices?
BC Unemployment Rate - January 2014 to March 2020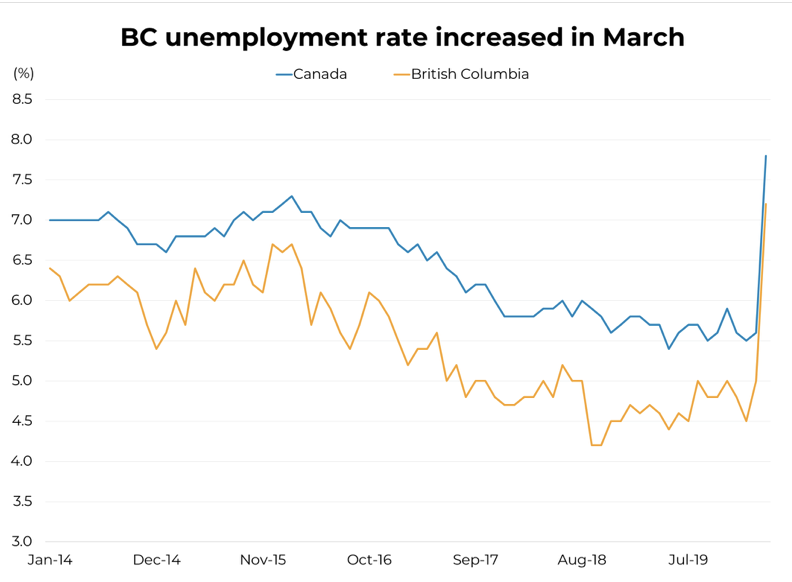 Renters
Early data shows that as many as 33% of residential tenants in BC did not pay their rent on April 1st. This comes after only 2-3 weeks of job losses.
We can only imagine this number will increase dramatically over the next few months.
And while the government is trying to help renting housing providers with a $500 / month stimulus, this will barley cover the average $2,000+ rental loses they are suffering each month.
And think about trying to sell a home with a tenant right now. With the moratorium on evictions, who would purchase a home with a tenant knowing the date to receive vacant possession is unknown?
Mortgage Deferrals
In the hopes to help curb insolvencies, a mortgage deferral program was launched a few weeks ago, allowing mortgage holders to apply for a 3-6 month reprieve on their payments.
Since then, 500,000 applications have been approved, about 10% of all outstanding mortgages in Canada.
That number will almost certainly continue to grow.
Household Indebtedness
Canadian households have the highest debt to GDP in the G7 at 101%.
The household debt servicing ratio has also never been higher, despite record low interest rates.
Oddly, as stretched as people are, mortgages in arrears are at a 25 year low. At least, they were heading into this.

Interest Rates
On March 4, the Bank of Canada lowered its overnight rate by 50 basis points to 1.25% Then on Friday, March 13, in an unscheduled emergency meeting in collaboration with OSFI and the Ministry of Finance, the Bank of Canada lowered its overnight rate by another 50 basis points to 0.75%, and many other supportive measures were announced. And on March 27, in yet another unscheduled emergency meeting, the BoC lowered its overnight rate once again by 50 basis points to 0.25%.
These moves and many of the other policies announced by the Bank of Canada, OSFI and Ministry of Finance were made to stabilize Canada's financial system and economy during a period of unprecedented uncertainty.
The banks passed on these discounts to consumers and businesses by reducing their Prime rates, currently sitting at 2.45% for most institutions. These reductions made loans that are priced off of PRIME rates such as Lines of Credits and Variable Rate mortgages, cheaper for clients and businesses who were already in those products.
But those searching for a lower fixed rate mortgage have largely been surprised to hear those rates have increased. Why? The reality is that credit is going to tighten in the coming months. From the banks perspective, how do you safely issue mortgages in this environment? Even for those employed today, the banks may begin assessing the sustainability of your employment. Expect qualifying to be even more of a challenge over the next few months - or at least until the banks feel we are safely on the other side of the virus and income is steady again.
BoC Policy Interest Rate - March 2015 to March 2020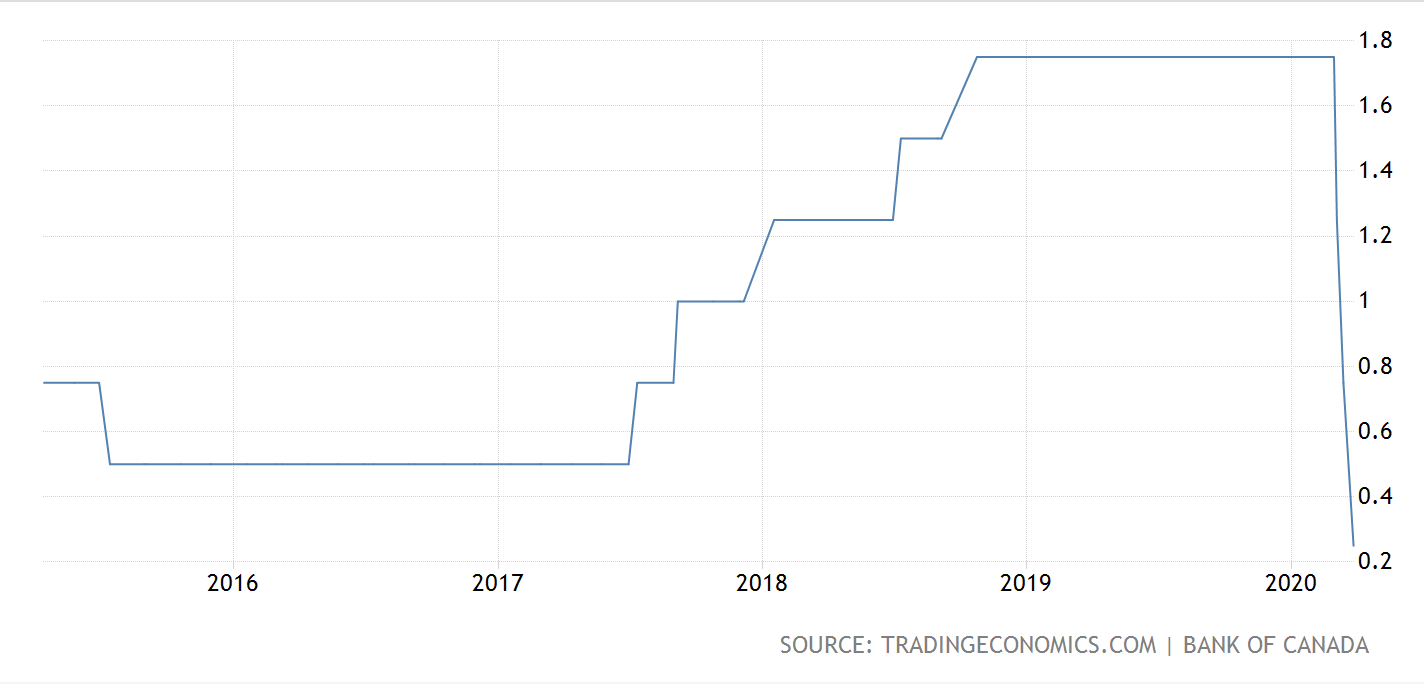 Government Stimulus
And we have the Federal and Provincial Government providing various forms of financial stimulus to help keep the economy afloat. $27 Billion worth as of late March. Though that number may have to increase as time goes on.
Closing Thoughts
The Vancouver Real Estate market is going to be impacted by the Coronavirus, there is no doubt about it.
What people mostly want to know is, how will it affect prices?
For now, the housing market will remain largely on pause. With both sales and new inventory numbers dropping dramatically, there is a bit of a stalemate effect taking place.
The stimulus and mortgage deferrals are easing tensions enough that we have yet to see noticeable panic selling.
So while prices will head lower - how low will depend largely on how long it takes to get to the other side of the virus.
Looking to the 2008 / 2009 recession as a reference, prices dropped 15% over a 9 month period. It then took 11 months for prices to fully recover.
The impact of the Coronavirus is far greater than the 08/09 recession though, and we should prepare for a larger drop in prices, and a longer recovery period.
Just like you, I'm watching new data come in daily, and this is still a moving target. In any case, stay safe, cut your expenses, maintain physical distancing and support all those that you can.