PRE SALE - Pier West by Bosa in New Westminster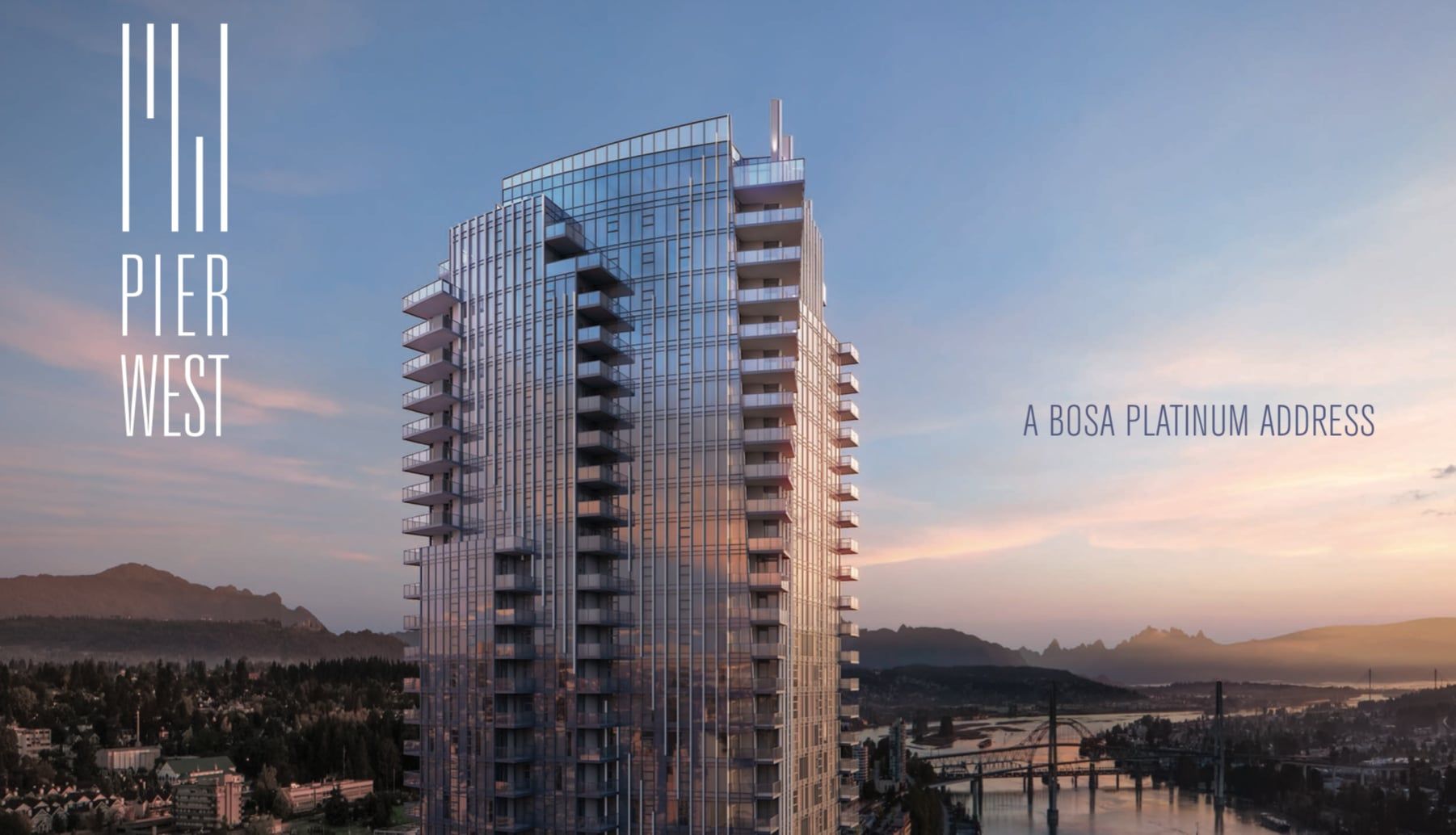 Pier West, by visionary Bosa Development, is a modern architectural landmark for Metro Vancouver and a striking addition to the New Westminster skyline. The tallest waterfront residential property in the Lower Mainland, Pier West is set within an 11+ acre park on New West's celebrated waterfront boardwalk, connecting the city's vibrant downtown just a block away. Reaching soaring heights of up to 53 storeys, this collection of homes is poised to be the most coveted address in the region.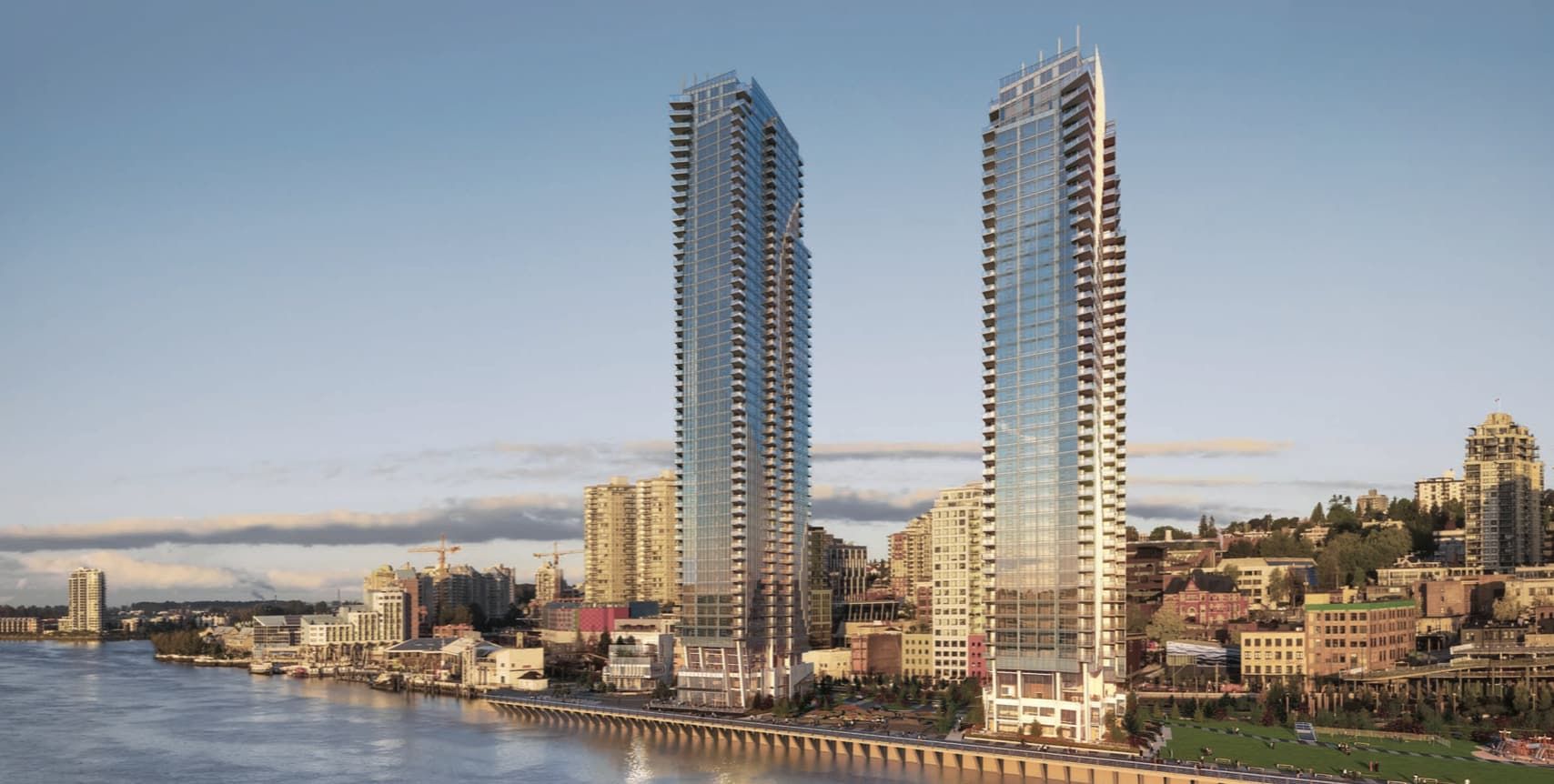 A COMPLETE WATERFRONT EXPERIENCE
Pier West is more than an addition to the New Westminster skyline. Architecture also engages with the boardwalk at the pedestrian level. The four-acre development complements and completes the public esplanade with extensive additional park space and over 15,000 sf of new waterfront dining, shops and services, creating the place to be in the city.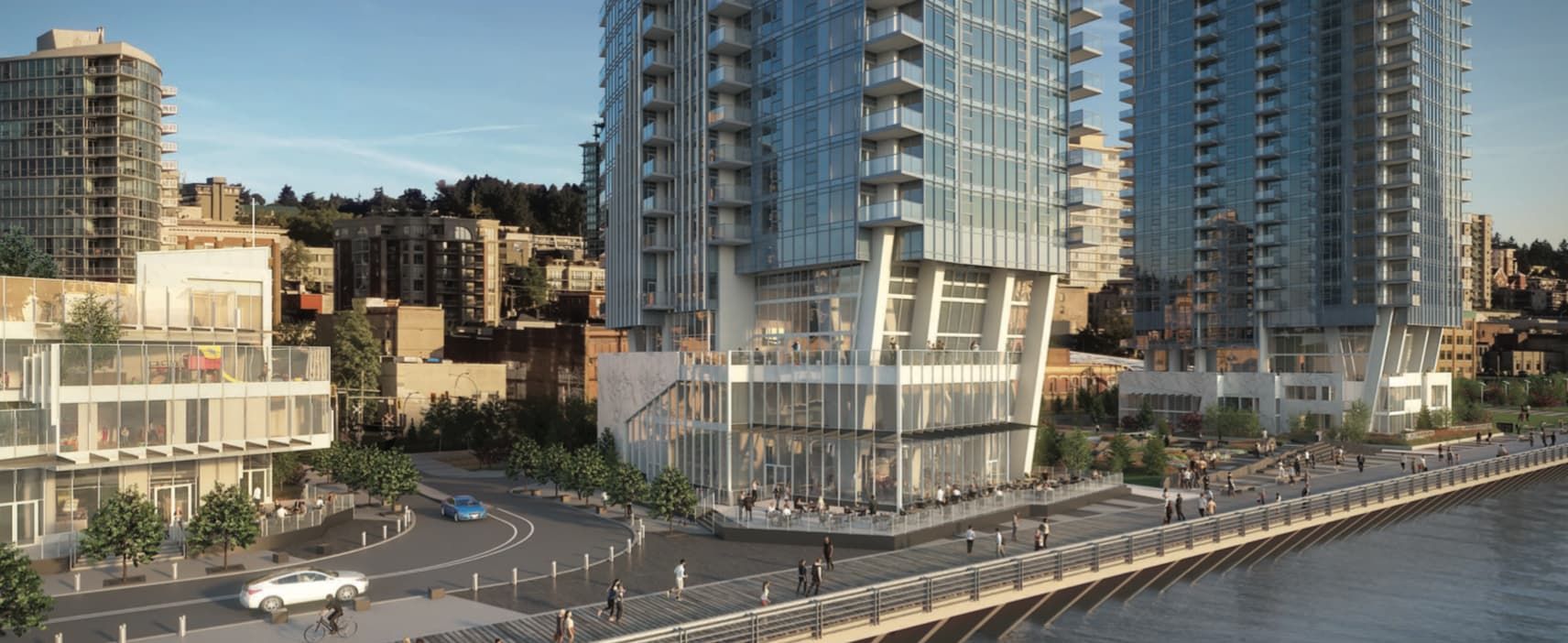 COMMUNITY & RETAIL
This modern three-storey building includes a 40 space childcare facility as well as space for retail providers at ground level that will enhance the waterfront experience – rent a bike, grab a latté or get a quick bite to eat before strolling the river path.
DOWNTOWN CONNECTIONS
New public pathways connect Pier West and the waterfront to Columbia Street, the heart of downtown New Westminster just a block away, inviting the greater community here.
DESTINATION DINING
The west residential tower features a stunning double height restaurant space, with oor-to-ceiling windows, sun-kissed interiors and a spacious riverfront patio that ensure this is the place to see and be seen on the water.
ART & ARCHITECTURE
Dramatic and engaging architectural details at the boardwalk level enhance the public waterfront experience. These small but signi cant design details allow the base to be set back, giving a more spacious feel to the ground-level amenities.
CELEBRATED WATERFRONT
This is the nal link in New Westminster's award-winning waterfront, connecting Westminster Pier Park with the River Market, and creating 2.5 km of continuous greenspace, viewpoints, playgrounds, benches and art that create one of the best waterfront experiences in Metro Vancouver.
A GREEN OASIS
Over half of Pier West is dedicated back to the city as an extension to Westminster Pier Park, resulting in 11+ acres of pathways, green space and lush landscaping that will be a green oasis for residents, and an inviting destination for the community. Pier West is not near a park, it's in one.
A MEMORABLE ARRIVAL AND AN INSPIRED ENTRANCE

Surrounded on all sides by Westminster Pier Park, the private entrance lobby at Pier West is a stylish and welcoming extension of your living space. This is the starting point for a lifestyle that emphasizes comfort, elegance and ease. Your double-height, glass-walled lobby is attended 24 hours a day to receive and safely store deliveries while you're out, and assist with anything else you need to support your lifestyle. From amenity bookings and coordinating utility appointments to dry cleaning services or calling a taxi, everything you need is here.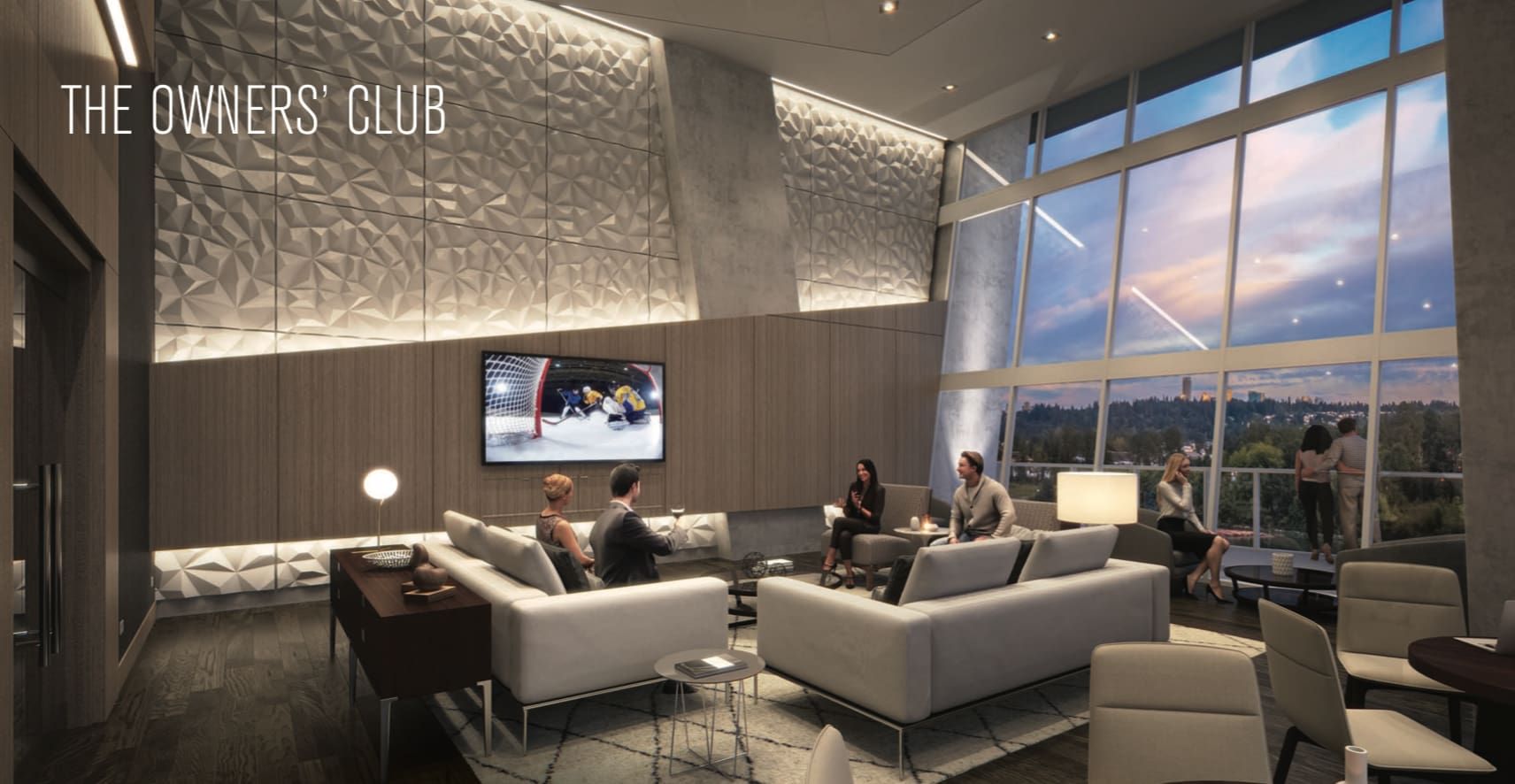 INSPIRED BY THE BEST PRIVATE CLUBS, THIS IS A NATURAL EXTENSION OF YOUR HOME Each tower features an Owners' Club; a dramatic two-storey space with an exclusive amenities collection designed to elevate everyday living. Central to each space, the lounge is ideal for catching the big game on large-format screens, spending some quiet time by the reside, or making new connections with your neighbours. You've got the perfect place to mix classic cocktails, coordinate a catered party and host friends for unforgettable all-day or evening happenings.
PRIVATE DINING
Adjacent to the lounge is an elegantly designed private dining room, with a full kitchen featuring top-of-the-line, chef- inspired Wolf gourmet appliances. The kitchen connects to a private deck with views of the river and a custom built-in bbq. Whether you want to grill the perfect let mignon or hire a celebrity chef to create an exclusive meal for 20, everything is here to create unforgettable memories. This is the epitome of luxurious entertaining.
HEALTH AND WELLNESS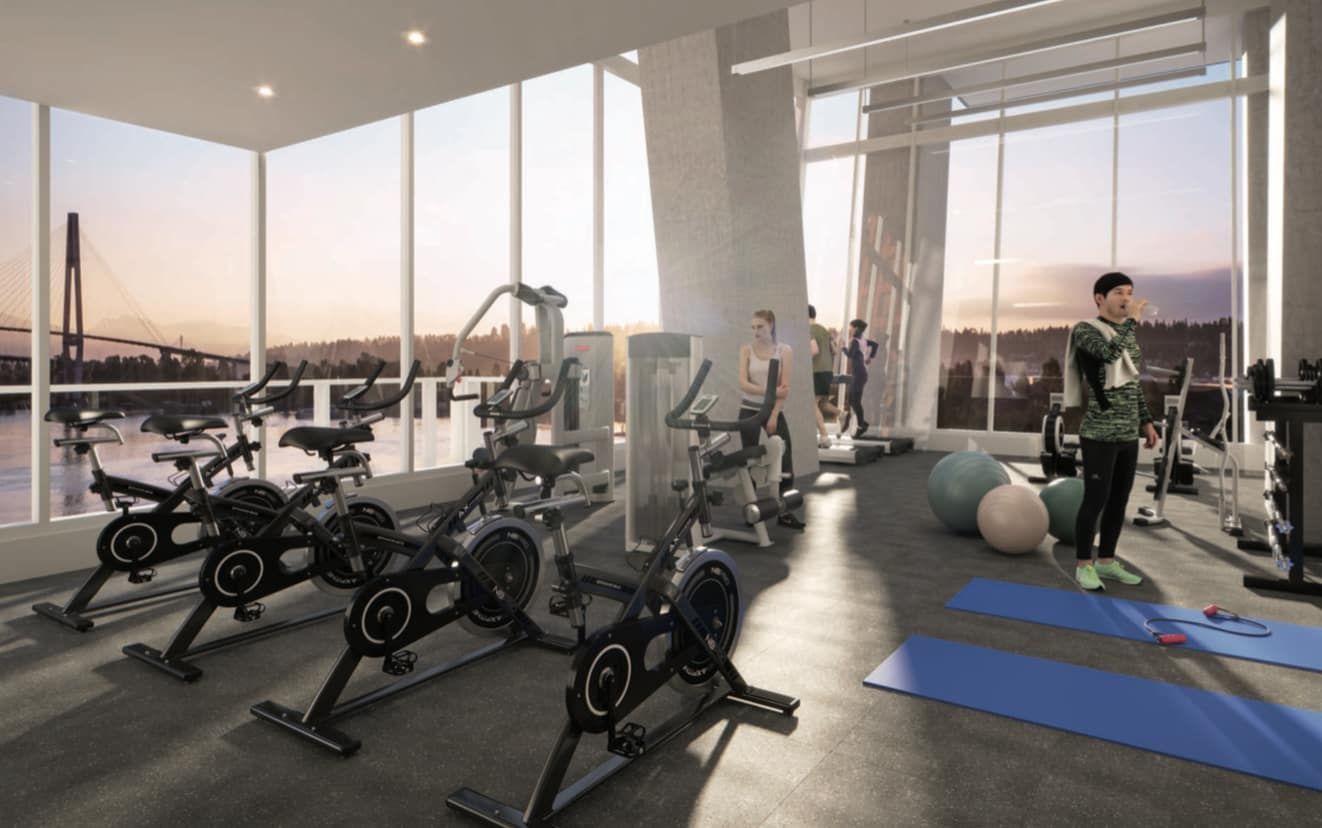 The high-performance tness facility will get your heart rate up, while a serene yoga and stretching space will help you nd your zen. Fitness spaces are complemented by a co-ed steam room and sauna, and fully-equipped change rooms. Exceptional water views add inspiration at any time of day or night.
OUTDOOR LOUNGE SPACES WITH WATERFRONT VIEWS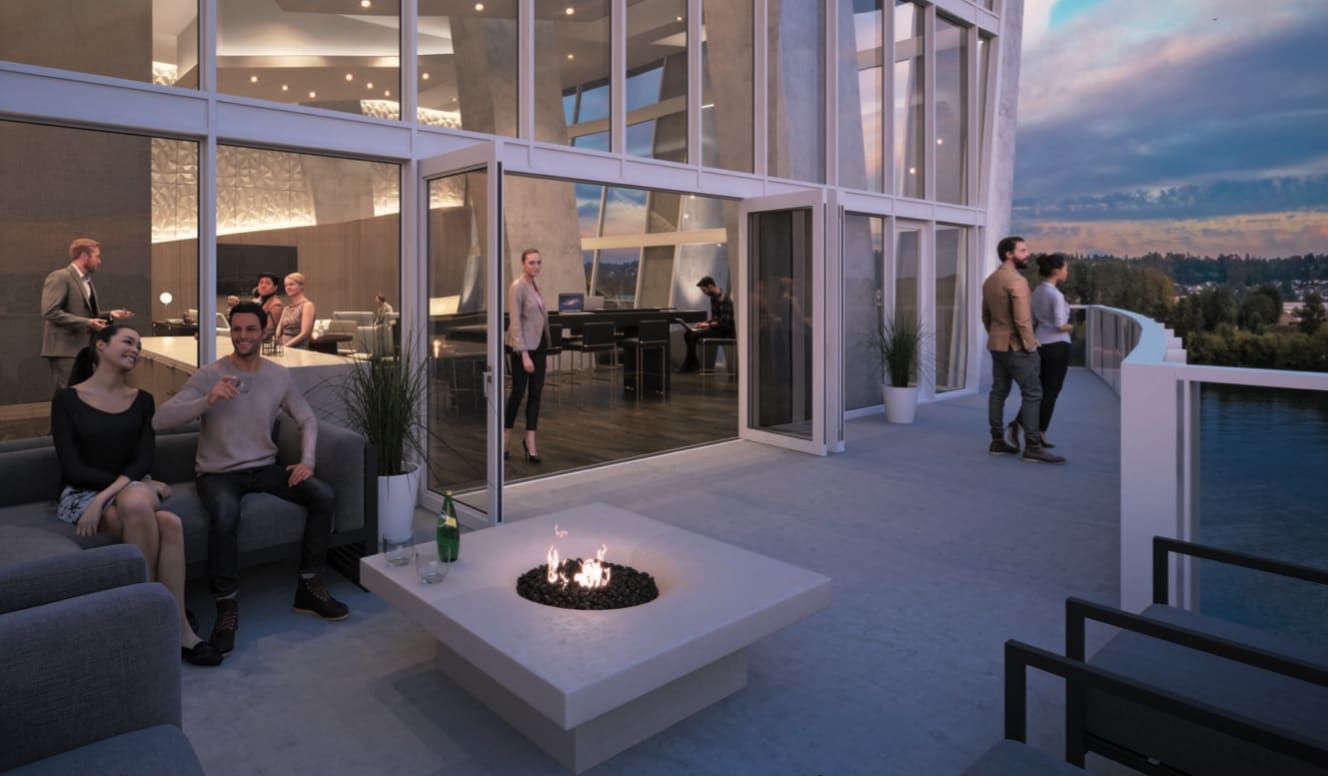 Waterfront is the ultimate, irreplaceable luxury. Expansive outdoor lounges with unobstructed riverfront views are the crown jewel of the Owner's Club and are reserved for the exclusive use of residents and your guests. The dramatic double-height lounge opens seamlessly to outdoor space designed to maximize views and create intimate areas to relax in private or to meet and socialize with friends old and new. In this unforgettable setting, hovering over the waterfront, you can take in the happenings of the boardwalk, watch the sunset over the river, or cozy up beside the re at day's end.
SPECIAL FEATURES
Air conditioning
Ceiling height over 9'
Kitchens designed by Inform Interiors
Interior design by BBA Design
Premium Bosch appliance package
Quartz waterfall countertop
Sizable balconies
AMENITIES
Over 10,000 sf of combined amenity space, with each building offering:
24-hour concierge to assist with amenity bookings, utility appointments, dry cleaning services, and ordering a taxi
The Owners' Club - lounge
Elegantly designed dining room
Full kitchen featuring Wolf gourmet appliances
State of the art BBQ
Outdoor lounge with views
High-performance tness facility, yoga and stretching space
Fully-equipped change rooms
Steam room and sauna
15,000 sf of commercial space, including:
Childcare facility
7,000 sf of waterfront dining · Shops and retail
Located within the new 11+ acre Westminster Pier Park completing 2.5 km of boardwalk
For More Information or to book a Private Viewing: Email Me Today