PRE SALE - Maverick in Whalley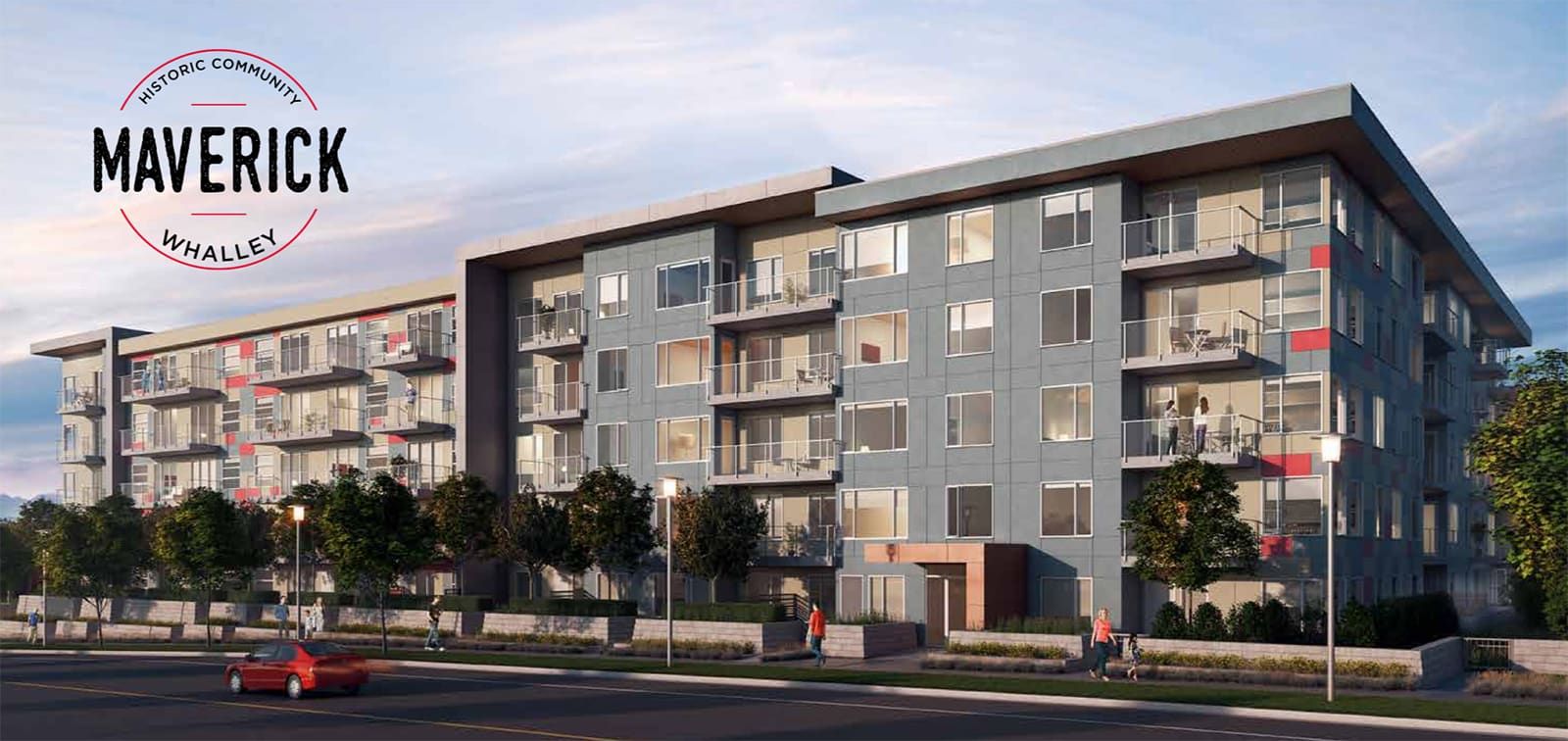 AS INDEPENDENT AS YOU ARE
DEFINED BY DURABLE MATERIALS, VIBRANT JOLTS OF COLOUR, AND CLEAN, CONTEMPORARY ARCHITECTURE, MAVERICK IS A COMPLEMENT TO ITS EVOLVING NEIGHBOURHOOD. THE ENGAGING DESIGN IS A BRIDGE BETWEEN THE COMMUNITY'S HISTORIC PAST AND VIBRANT FUTURE. THE FIVE-STOREY BUILDING CONSISTS OF 125 HIGHLY FUNCTIONAL HOMES, ALONG WITH OUTSTANDING EXCLUSIVE AMENITY SPACE. THE CAREFULLY PLANNED RESIDENCES ARE DESIGNED FOR EASY DAILY LIVING, PROVIDING PLACES FOR PRIVACY AND AREAS FOR ENTERTAINING. OPEN LAYOUTS AND EXPANSIVE WINDOWS MAKE THE HOMES FEEL EVEN BIGGER THAN THEY ARE. SMART STORAGE MEANS RESIDENTS HAVE LOTS OF SPACE TO STASH THEIR STUFF.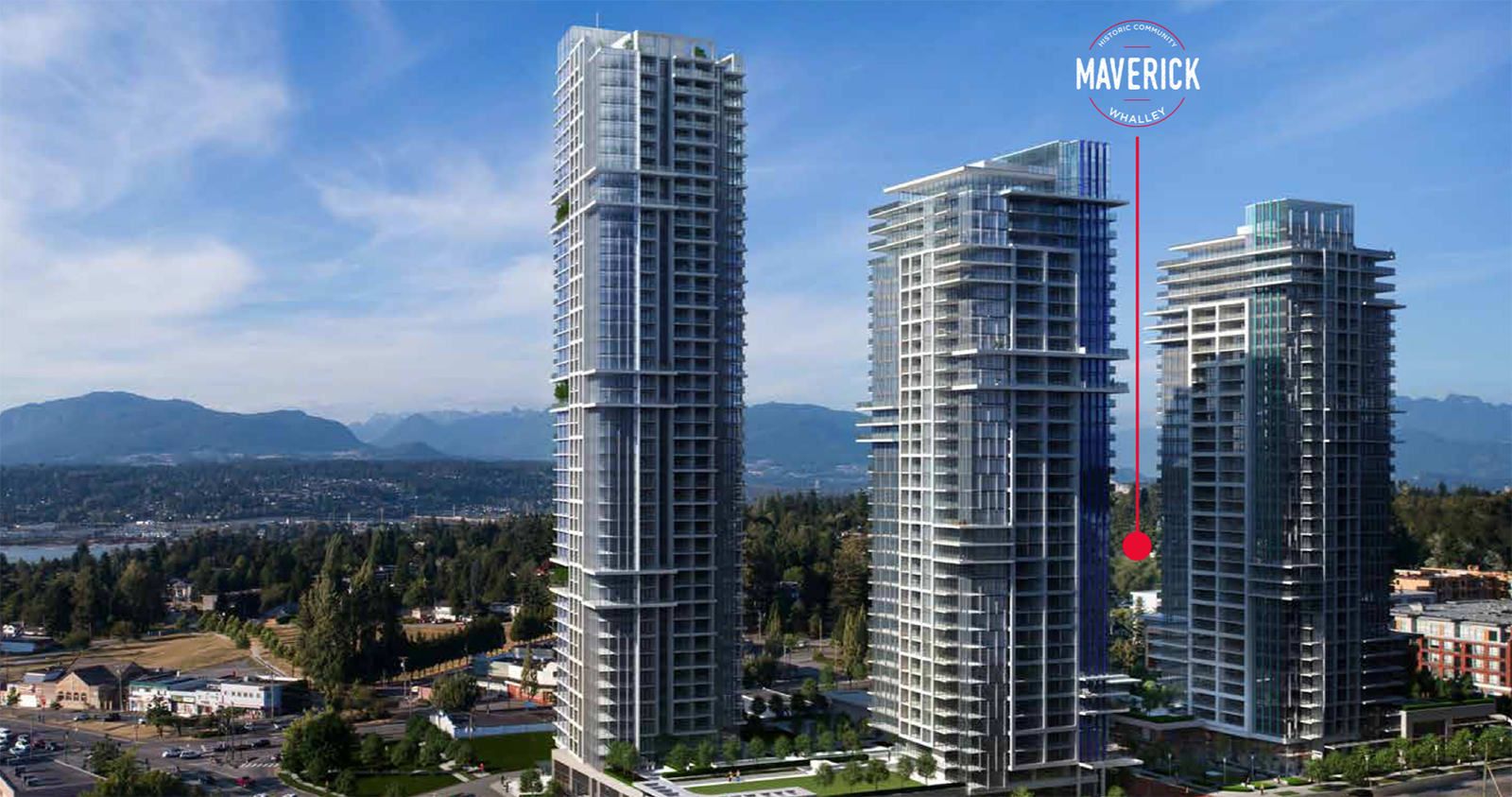 A REBEL WITH A BIG FUTURE
MAVERICK IS THE NEXT CHAPTER OF THE WHALLEY ENTERTAINMENT DISTRICT, A NEW MASTER-PLANNED, ARTS AND CULTURE-FOCUSED NEIGHBOURHOOD THAT'S POISED TO REDEFINE URBAN LIVING IN THE AREA. IT'S DESTINED TO BE A THRIVING HUB WITH DIVERSE RETAIL, LIVE MUSIC VENUES, HANDY SERVICES, GREAT RESTAURANTS AND ACRES OF PUBLIC SPACE—AND ULTIMATELY HOME TO OVER 3,500 PEOPLE. AND MAVERICK IS THE FIRST PROJECT TO CALL THE NEIGHBOURHOOD HOME. GETTING INTO THE WHALLEY ENTERTAINMENT DISTRICT EARLY WITH MAVERICK MEANS HOMEOWNERS WILL ENJOY THE EXCEPTIONAL QUALITY OF LIVING THAT COMES WITH A TIEN SHER HOME, AT A KILLER PRICE. AND ACRES OF UPSIDE POTENTIAL. THIS IS AN AFFORDABLE OPPORTUNITY THAT SHOULD NOT BE MISSED.
A BOLD VISION
WHERE WHALLEY BOULEVARD AND 107A AVE INTERSECT, A DYNAMIC NEW MASTER-PLANNED COMMUNITY IS TAKING SHAPE—THE WHALLEY ENTERTAINMENT DISTRICT—WITH NEW MULTI-RESIDENTIAL BUILDINGS, PARK SPACE, LIVE MUSIC SPACE AND RETAIL BEING ADDED TO THE TRANSFORMING NEIGHBOURHOOD.
MAVERICK IS THE NEWEST RESIDENTIAL BUILDING COMING TO THE COMMUNITY, JUST A BLOCK AND A HALF FROM THE SITE OF THE FLAMINGO HOTEL, A HISTORIC MUSIC VENUE WHOSE SPIRIT AND MISSION WILL BE PRESERVED IN THE NEW WHALLEY ENTERTAINMENT DISTRICT.
THE HIGHLY WALKABLE NEIGHBOURHOOD SURROUNDING MAVERICK AND THE WHALLEY ENTERTAINMENT DISTRICT IS ALREADY PACKED WITH COMMUNITY AMENITIES—A COMMUNITY CENTRE, ELEMENTARY AND SECONDARY SCHOOL, PARKS, LOCAL SHOPS AND NEARBY GATEWAY SKYTRAIN STATION.
THE NEIGHBOURHOOD OFFERS BETTER VALUE FOR MONEY THAN ANYWHERE ELSE IN METRO VANCOUVER. PERIOD.
MAVERICK AND THE WHALLEY ENTERTAINMENT DISTRICT ARE BEING LED BY TIEN SHER, A DYNAMIC AND INNOVATIVE DEVELOPER AND BUILDER WITH A LONG HISTORY AND UNPRECEDENTED COMMITMENT TO STEADY, SMART URBAN VITALIZATION IN SURREY.

YOUR WHALLEY
WE ALL KNOW THAT SURREY IS ONE OF THE FASTEST-GROWING AND MOST DYNAMIC CITIES IN THE COUNTRY—HERE ARE SOME HIGHLIGHTS OF HISTORIC WHALLEY.
A CULTURAL CORRIDOR.
SURREY HAS INVESTED IN SPACES TO HOST MAJOR EVENTS, FESTIVALS AND PERFORMANCES, AND HISTORIC WHALLEY IS THE EPICENTER OF A "CULTURAL CORRIDOR" THAT RUNS FROM CITY CENTRE TO SOUTH SURREY. IT WILL BE HOME TO THE LARGEST MUSIC VENUE SOUTH OF THE FRASER RIVER.
CENTRAL CITY HAS IT ALL.
DESIGNED BY RENOWNED B.C. ARCHITECT BING THOM, THE STUNNING AND MODERN CENTRAL CITY SHOPPING CENTRE IS AN AWARD-WINNING WORLD-CLASS COMMUNITY HUB WHERE YOU CAN WORK, SHOP AND LEARN UNDER ONE ROOF. THE DEVELOPMENT INCLUDES 140 RETAILERS, RESTAURANTS AND SERVICES, ALONG WITH A 550,000-SQUARE-FOOT OFFICE TOWER AND SFU SURREY CAMPUS.
A PLACE FOR LEARNING.
CENTRAL SURREY IS HOME TO THREE UNIVERSITIES, INFUSING THE COMMUNITY WITH A VIBRANT YOUTHFUL ENERGY.
SFU SURREY CAMPUS IS LOCATED IN THE CENTRAL CITY COMPLEX AND HAS OVER 7,000 STUDENTS INVARIOUS DISCIPLINES
UBC'S FACULTY OF MEDICINE OPERATES A CLINICAL ACADEMIC CAMPUS WITHIN NEARBY SURREY MEMORIAL HOSPITAL'S BRAND• NEW CRITICAL CARE TOWER BUILDING
KWANTLEN POLYTECHNIC UNIVERSITY IS BUILDING A NEW FIVE-STOREY FACILITY FOR OVER 1,600 STUDENTS, NEXT TO CITY HALL.
IT WILL BE A HUB AND A LINK CONNECTING ACADEMIC RESEARCHERS WITH SURREY'S HEALTH AND TECH SECTORS.
CONNECTED TO THE REGION.
EASILY ACCESS METRO VANCOUVER VIA GATEWAY SKYTRAIN STATION, AND SOON CONNECT TO THE FRASER VALLEY TOO. LIGHT RAIL TRANSIT IS PLANNED FOR THE REGION, CONNECTING CITY CENTRE WITH THE CITY OF LANGLEY AND SEVERAL POINTS IN BETWEEN.
A HEALTHY COMMUNITY.
THE RECENTLY EXPANDED SURREY MEMORIAL HOSPITAL IS ONE OF THE REGION'S BUSIEST HEALTH CARE FACILITIES, WITH ONE OF LARGEST EMERGENCY DEPARTMENTS IN THE PROVINCE. THE HOSPITAL'S FAMILY BIRTHING UNIT DELIVERED 4,474 BABIES IN 2016–17. NEARBY IN THE HEALTH AND TECHNOLOGY DISTRICT, PLANS ARE UNDERWAY TO EXPAND INNOVATION BOULEVARD AND CITY CENTRE 1 WITH 11 NEW RESEARCH AND DEVELOPMENT TECHNOLOGY BUILDINGS, WHICH WHEN COMPLETED WILL BRING MORE THAN 15,000 JOBS TO THE AREA.
GOLDEN AMENITIES.
THE CHUCK BAILEY RECREATION CENTRE IS A HIGH-PROFILE COMMUNITY RECREATION FACILITY THAT INITIALLY SERVED AS A VOLUNTEER TRAINING HUB FOR THE VANCOUVER 2010 WINTER OLYMPICS. THE MULTI-PURPOSE FACILITY INCLUDES A GYM, COVERED OUTDOOR SKATE PARK, OUTDOOR BASKETBALL COURT, OUTDOOR LACROSSE AND HOCKEY BOX, AND SURREY'S ONLY URBAN SCREEN, PROJECTING DIGITAL AND INTERACTIVE ART.
PLUS:
IT'S NATURAL: SURREY PARKS INCLUDE OVER 100 KM OF NATURE TRAILS.
IT'S DIVERSE: SURREY RESIDENTS SPEAK OVER 100 LANGUAGES.
IT'S GROWING: AROUND 1,000 NEW RESIDENTS MOVE TO SURREY EVERY MONTH.
IT'S YOUTHFUL: ONE-THIRD OF SURREY'S POPULATION IS UNDER THE AGE OF 19.
IT'S HISTORIC: SURREY WAS INCORPORATED AS A CITY IN 1879, AND FIRST NATIONS
PEOPLES HAVE BEEN LIVING IN THE REGION FOR THOUSANDS OF YEARS.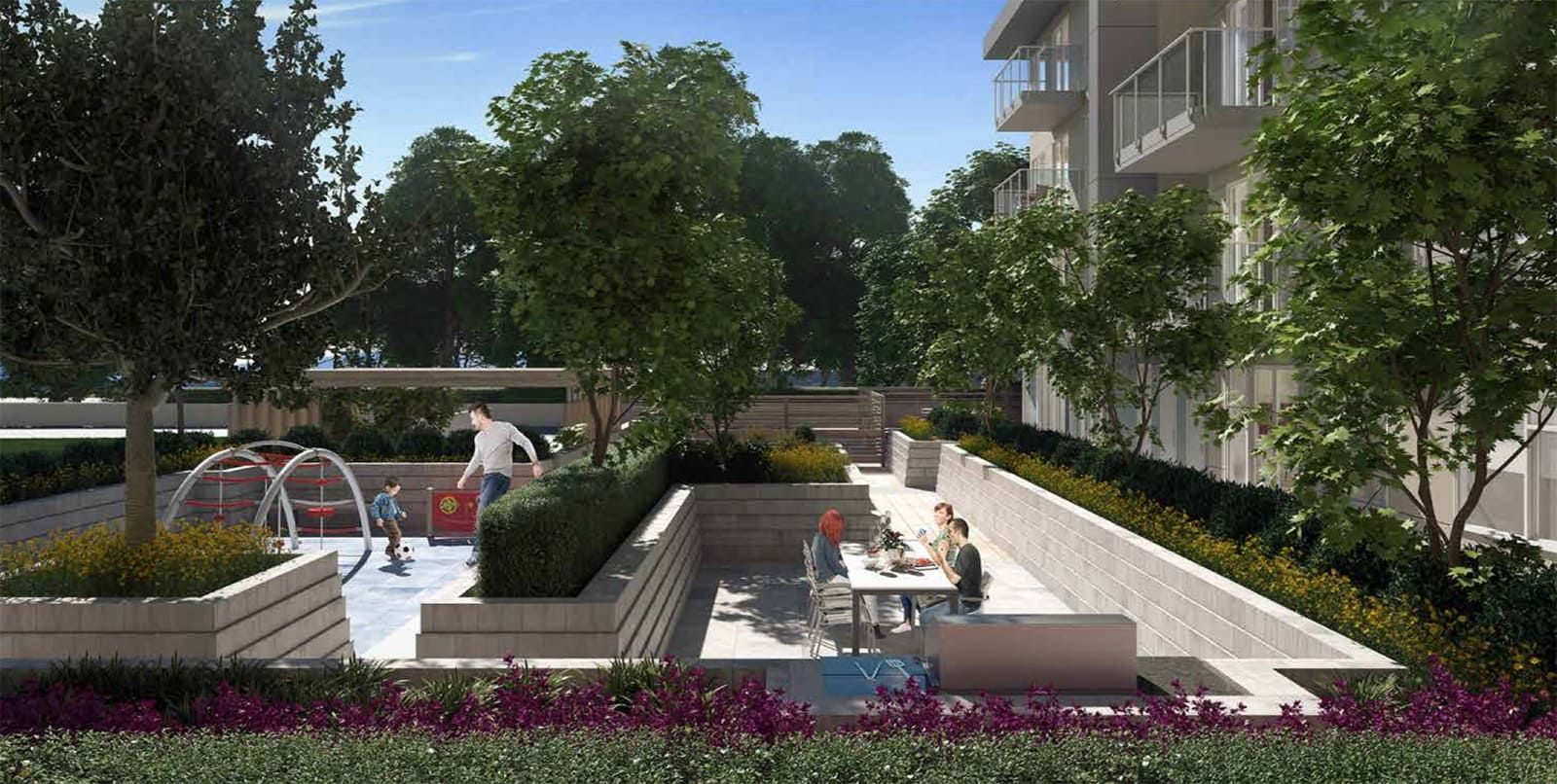 AWESOME AMENITIES
AS A RESIDENT, YOU'LL HAVE ACCESS TO NEARLY 10,000 SQUARE FEET OF INDOOR AND OUTDOOR PRIVATE AMENITY SPACE, INCLUDING A BILLIARDS AND GAMES ROOM, LOUNGES, FULLY EQUIPPED FITNESS AND WEIGHT- TRAINING SPACE, AND YOGA AREA. A FULLY KITTED-OUT COMMUNITY KITCHEN MEANS YOU CAN MAKE MEALS WITH YOUR NEIGHBOURS AND FRIENDS. AN ENCLOSED COURTYARD WITH GARDEN PLOTS PROVIDES A PROTECTED PLACE TO GROW YOUR OWN VEGETABLES AND FLOWERS, SO GET YOUR SALADS READY. AN OUTDOOR BBQ AND SEATING AREA IS PERFECT FOR ENTERTAINING FRIENDS AND FAMILY AS THE SUN SETS.
FINER DETAILS
YOUR NEW DIGS
A BEAUTIFULLY DESIGNED 5-STOREY, RESIDENTIAL-ONLY COLLECTION BY VANCOUVER-BASED BESHARAT
FRIARS ARCHITECTS
CHOOSE FROM A VARIETY OF ONE, TWO AND THREE BEDROOM HOMES
LOCATED IN THE NEWLY ESTABLISHED WHALLEY ENTERTAINMENT DISTRICT
CENTRALLY LOCATED, JUST STEPS TO GATEWAY SKYTRAIN STATION
MINUTES FROM SURREY MEMORIAL HOSPITAL, SIMON FRASER UNIVERSITY AND SURREY CITY HALL
SPACIOUS PATIOS, BALCONIES AND TERRACES EXTEND YOUR LIVING SPACE
ABUNDANCE OF WINDOWS IN EACH HOME MAXIMIZES VIEWS AND SUNLIGHT
DOUBLE-PANE WINDOW SYSTEM PROVIDES A QUIET LIVING EXPERIENCE
OVERHEIGHT 9' CEILING IN MAIN LIVING AREA OF HOMES
COOL INTERIORS
CUSTOMIZE YOUR HOME WITH ONE OF TWO SOFT COLOUR PALETTES: LIGHT OR DARK
WIDE PLANK LAMINATE HARDWOOD FLOORING IN THE LIVING, DINING, BEDROOM, KITCHEN AND DEN AREAS
BLINDS ON ALL WINDOWS
SOUNDPROOFING BETWEEN FLOORS CONSISTS OF CONCRETE TOPPING OVER PLYWOOD OVER ENGINEERED FLOOR JOISTS, BATT INSULATION AND DOUBLE LAYER OF DRYWALL. IT IS BASED ON CURRENT BUILDING CODE AND PROVIDES MINOR IMPROVEMENTS OVER THE MOST BASIC ASSEMBLY.
ENGINEERED PARTY-WALL CONSTRUCTION BETWEEN HOMES ENSURES QUIET COMFORT
DISTINCTIVE MODERN FLAT-STOCK BASEBOARDS AND DOOR TRIMS
ENERGY-EFFICIENT TOP-LOADING WASHER AND DRYER WITH ADAPTIVE WASH TECHNOLOGY
SOLID-CORE SUITE ENTRY DOORS, POLISHED CHROME LEVER AND PRIVACY LOCK FOR PEACE OF MIND
MODERN PANEL STYLE DOORS FOR BATHROOMS, BEDROOMS AND CLOSETS
HOT KITCHENS
MODERN KITCHENS WITH FLAT-PANEL CABINETRY IN A COMBINATION OF WOOD GRAIN AND WHITE LAMINATE
BEAUTIFUL AND DURABLE SOLID QUARTZ COUNTERTOP
COOL POLISHED AND MATTE TILE PATTERNED BACKSPLASH
PREMIUM HAIER STAINLESS STEEL APPLIANCE PACKAGE, INCLUDING:
COUNTER-DEPTH BOTTOM-FREEZER REFRIGERATOR
FREE-STANDING SLIDE-IN ELECTRIC RANGE WITH CONVECTION COOKING
FULLY INTEGRATED DISHWASHER
OVER-THE-RANGE MICROWAVE WITH INTEGRATED HOOD FAN
UNDERMOUNT STAINLESS STEEL SINK
CHROME FAUCET WITH PULL-DOWN SPRAY FOR SLEEK LOOK AND EASY CLEANUP
CALM BATHROOMS
UNDERMOUNT, RECTANGULAR SINK CREATES A SLEEK MODERN LOOK FOR ALL BATHROOMS
DISTINCTIVE LARGE-FORMAT PORCELAIN TILE FLOORING
RELAXING SOAKER TUB IN MAIN BATHROOM
WALK-IN SHOWER IN ENSUITE
CHROME SINGLE-LEVER FIXTURES THROUGHOUT, WITH CHROME ACCESSORIES
HIGH EFFICIENCY DUAL-FLUSH TOILET
NEXT-LEVEL EXTRAS
FULLY RAINSCREENED BUILDING BUILT FOR VANCOUVER'S CLIMATE
GATED AND SECURE UNDERGROUND PARKADE
SECURITY CAMERA SYSTEM IN PARKADE
ENTERPHONE LOBBY WITH A SECURE FOB ACCESS CONTROL SYSTEM
BICYCLE AND STORAGE LOCKER FOR EACH HOME
FOB FLOOR ACCESS-CONTROLLED ELEVATOR
MECHANICAL SYSTEM IS BATHROOM AND KITCHEN EXHAUST FANS, MAKE UP AIR VENTS AND ELECTRIC BASEBOARD HEAT
HARDWIRED SMOKE DETECTORS IN ALL HOMES AND COMMON AREAS
FULLY SPRINKLERED, FIRE-PROTECTED BUILDING WITH ANNUNCIATOR PANEL AND STAND PIPES
COMPREHENSIVE 2/5/10 TRAVELERS HOME WARRANTY

2-YEAR MATERIALS AND WORKMANSHIP
5-YEAR BUILDING ENVELOPE PROTECTION
10-YEAR STRUCTURAL PROTECTION
AWESOME AMENITIES
COMMON AREA COURTYARD WITH COVERED BBQ AND EATING AREA FOR SOCIALIZING
FIRESIDE LOUNGE, BILLIARDS AND GAMES ROOM,
FABULOUS COMMUNITY KITCHEN FOR ENTERTAINING FRIENDS OR NEIGHBOURS
FULLY EQUIPPED GYM WITH OUTDOOR VIEWS
COMMUNITY GARDEN PLOTS FOR THOSE WITH GREEN THUMBS
CONVENIENT RECYCLING AND GARBAGE DISPOSAL ROOM
Starting from prices:
Plan B 1 Bed Starting From

$325,900
Plan C 1 Bed & Den Starting From

$359,900
Plan D 2 Bed Starting From

$429,900
Plan E 2 Bed & Den Starting From

$489,900
Plan F 3 Bed Starting From

$589,900