PRE SALE - Concord Brentwood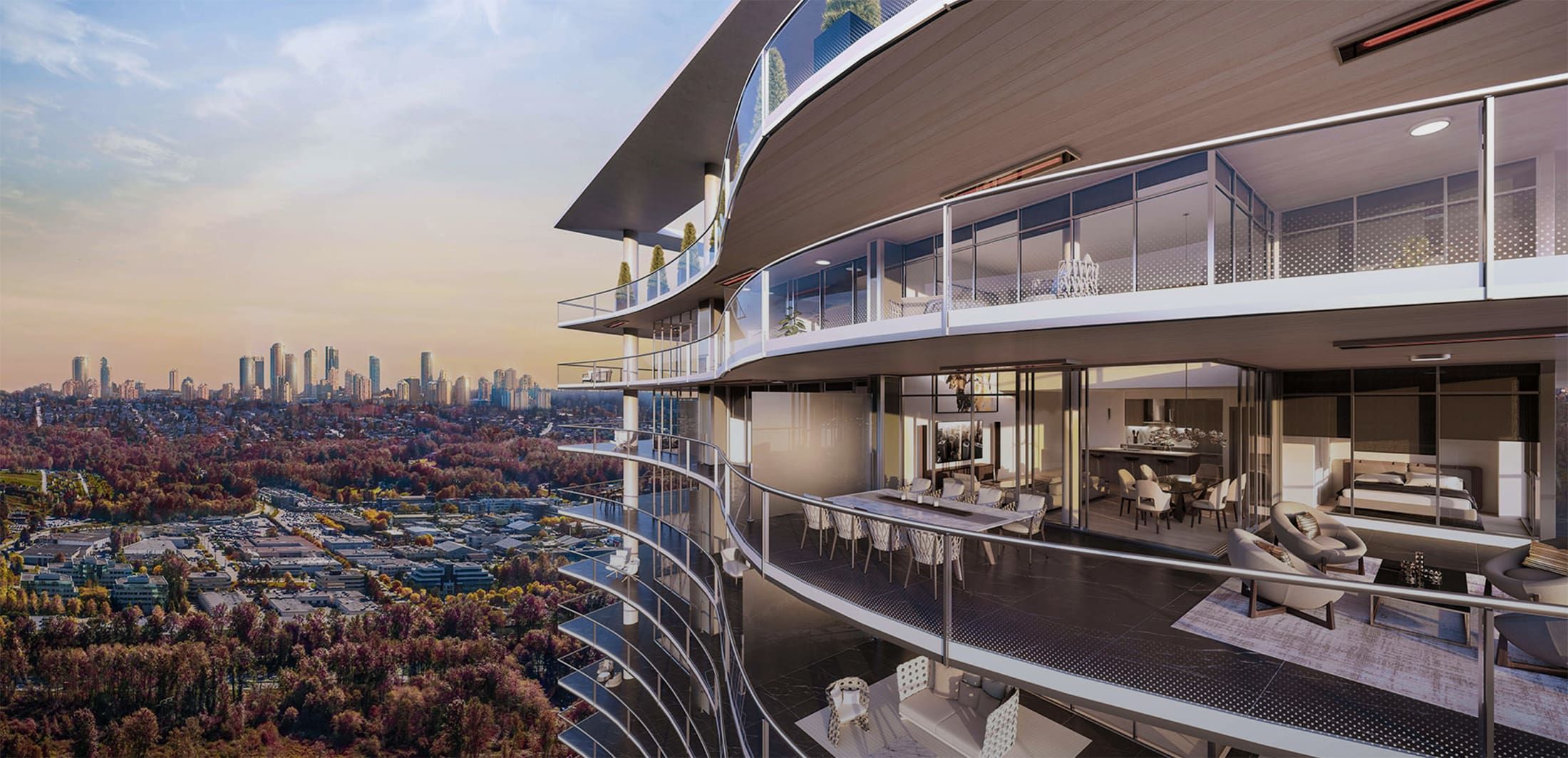 Bring the West Coast Canadian outdoors even closer. Every suite is home to an expansive outdoor living space with inset radiant ceiling heaters for all-season enjoyment. Select suites have a unique floor-to-ceiling sliding door system for a seamless transition between the indoor and outdoor space.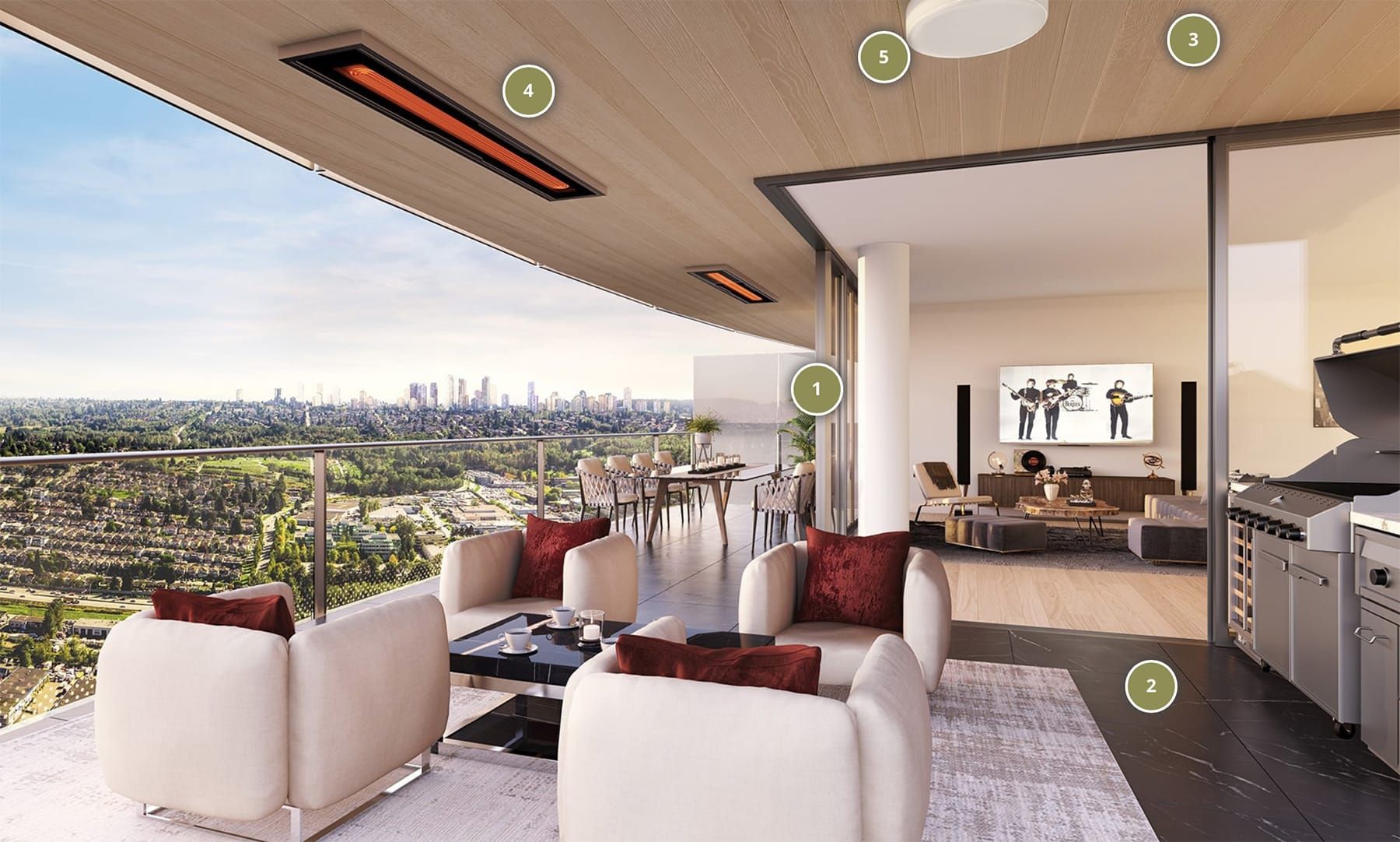 Double floor-to-ceiling corner sliding doors for a seamless transition between the indoors & outdoors (in select suites)
Porcelain tiled balcony floors
Sleek balcony soffit panel system
Inset radiant ceiling heaters for all-season enjoyment
Luminous LED ambient lighting
STUNNING ARCHITECTURE
Concord Brentwood's newest phase, HILLSIDE EAST, is an oasis in the city, with two striking towers perched high above the treetops. On every level, the super-sized balconies curve gracefully upwards, like gentle waves ebbing and flowing in the skyline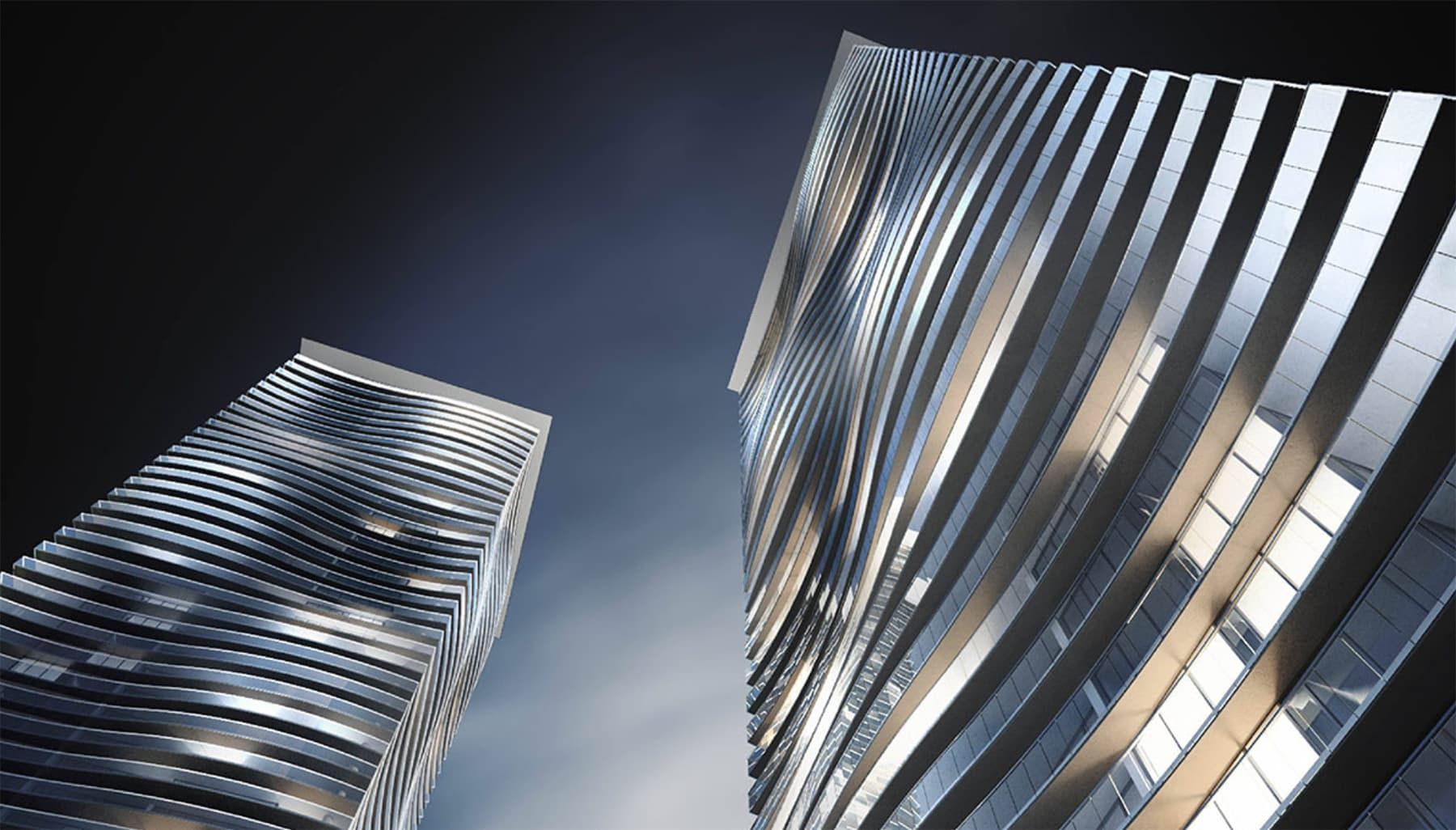 TREETOP LIVING
Both residential towers are raised far beyond the treetops, creating a soaring 38-foot vertical space below.
WATER FEATURES
Tranquil water features, alongside reflective mirror soffit details, add dramatic elegance.
CURVED CONTOURS
Wave-shaped contours complement the surrounding environment. The dramatic, sky-view canopy roof floats cloud-like above the lobby podium.
MASTER ARCHITECTS
Every architectural detail evokes a powerful presence. Marvel at the architectural wonder from the comfort of your home, while strolling in the park, or while gazing off into the horizon from your super-sized balcony. This masterful collaboration between Francl Architects and PFS Studio is truly a sight to behold. Where every square inch is inspired by, and a reflection of, a life well lived.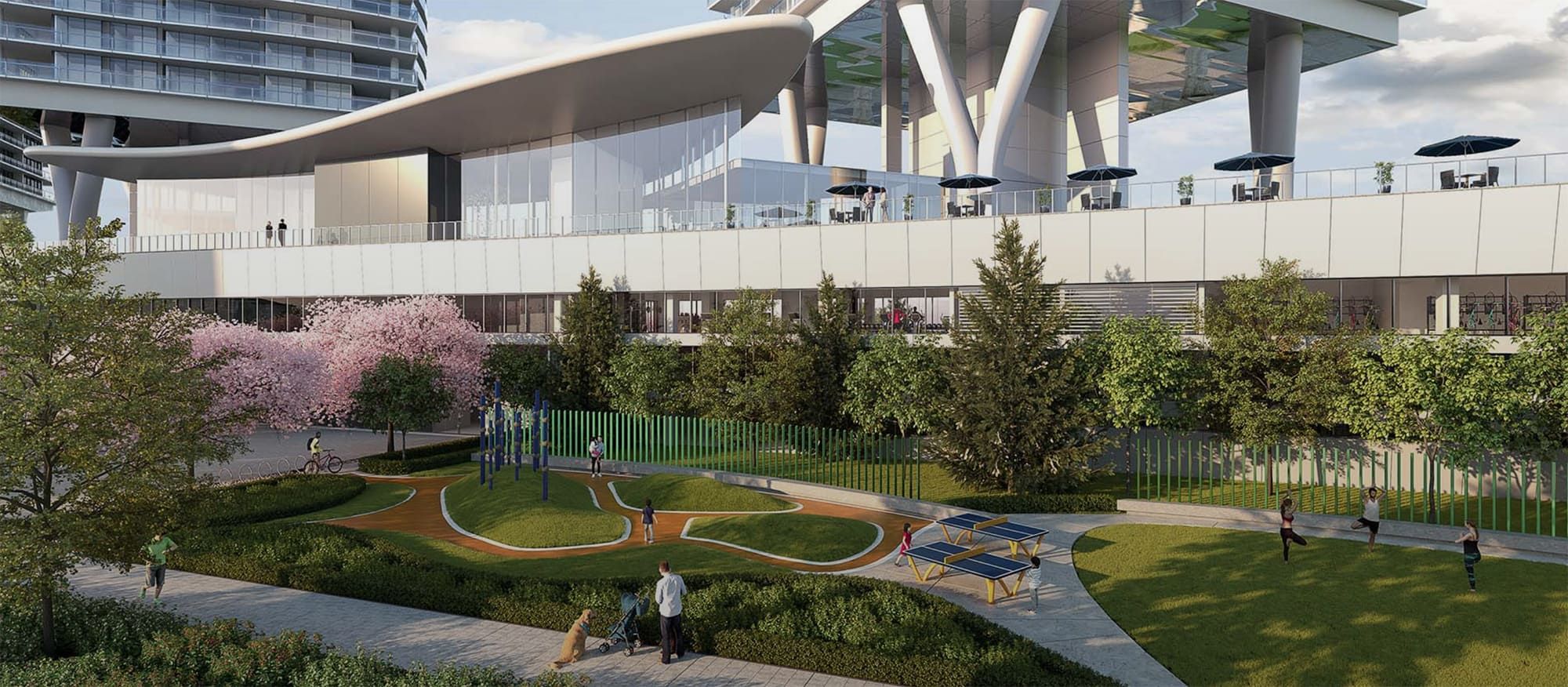 AMENITIES AT THEIR FINEST
Make the most of the abundance of indoor and outdoor amenities year-round at Concord Brentwood Hillside East.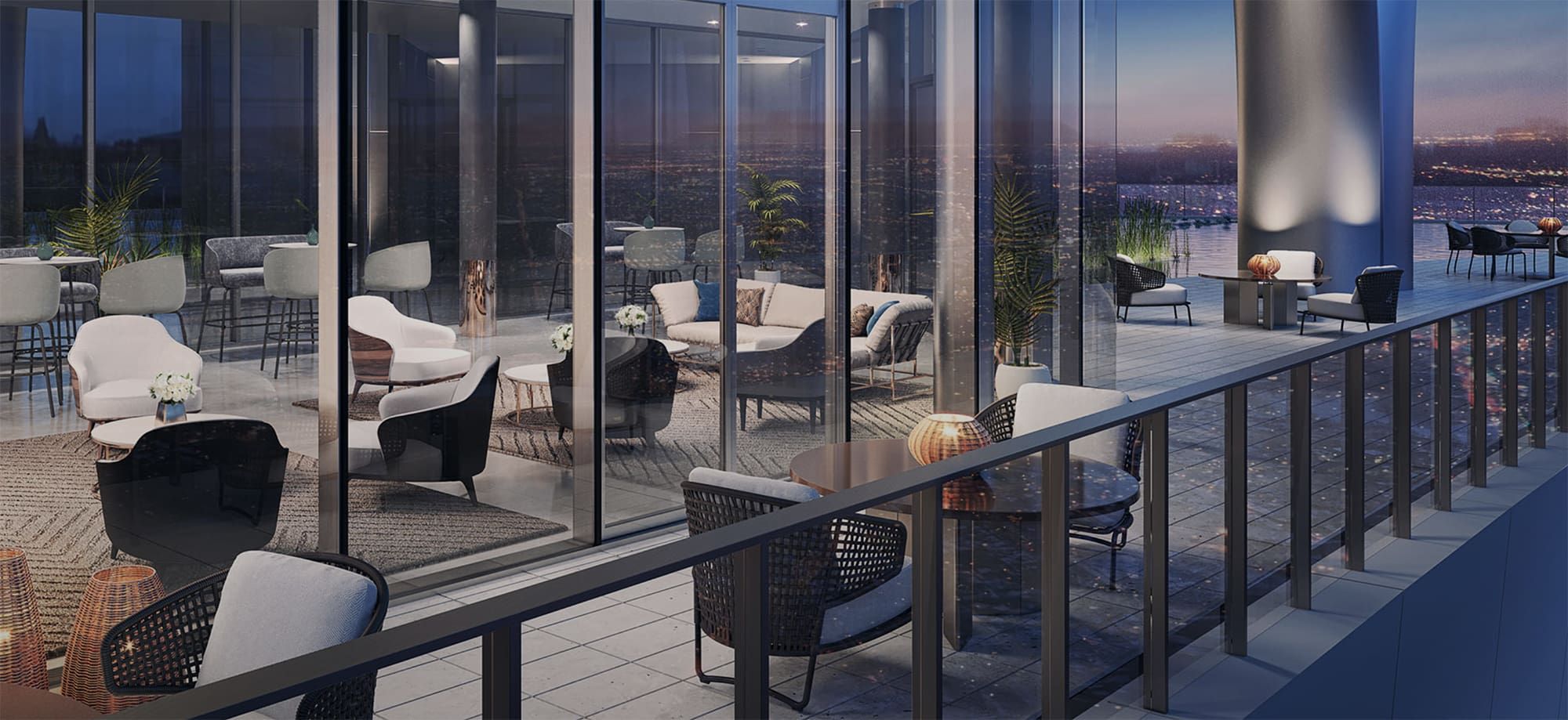 OUTDOOR AMENITIES
Enjoy strategically planned outdoor spaces, including expansive terraces, a purposeful park at the Yukon entrance, the adjacent Stickleback Creek Riparian boardwalks and a public art plaza with viewing deck — all conveniently connected to the surrounding urban trail system.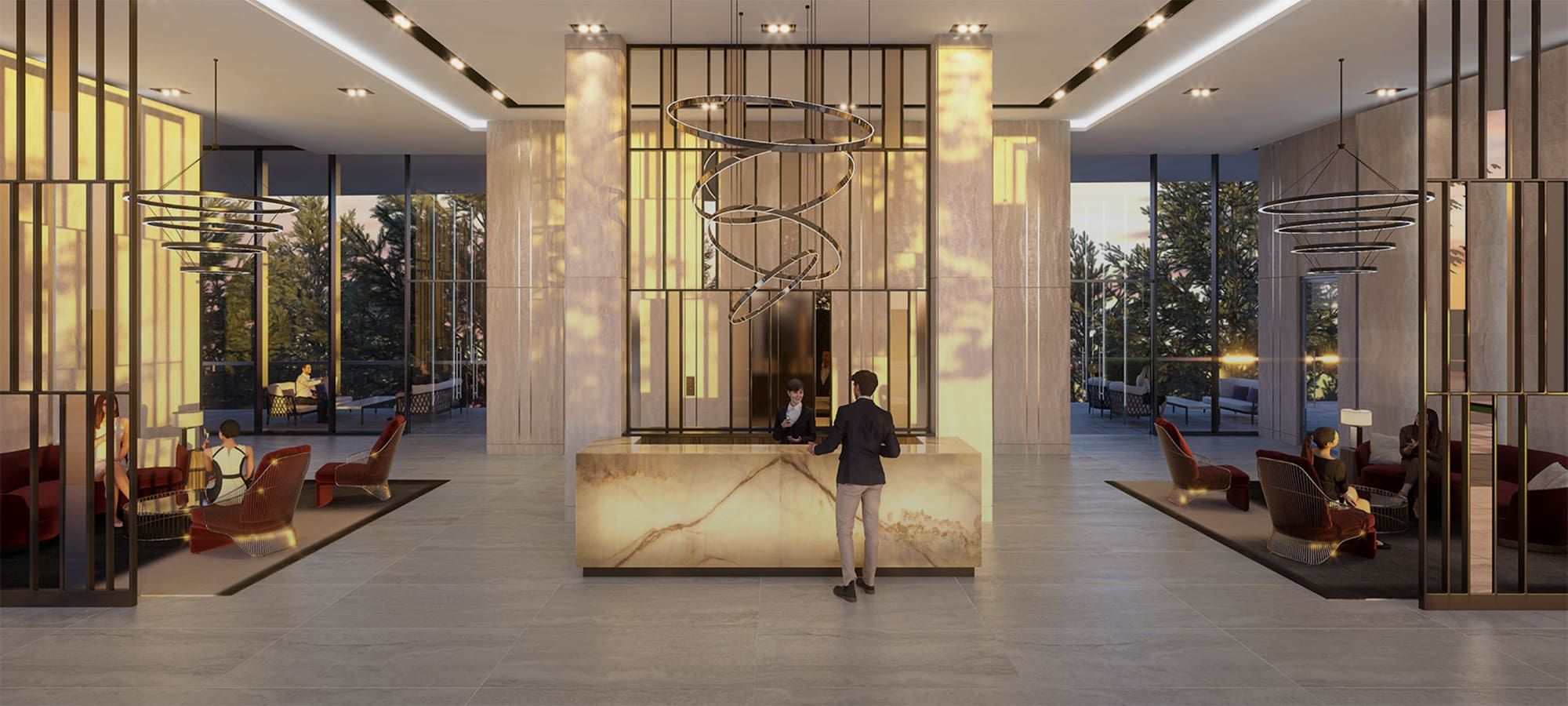 INDOOR AMENITIES
You will feel welcomed and safe when you enter the grand central lobby with 24-hour concierge. This remarkable space is an inviting transition from the busy world to your new happy place. Greet guests, enjoy a moment of reflection, or simply wander through on your way to the entertainment lounges, media room, gym and stunning outdoor terrace.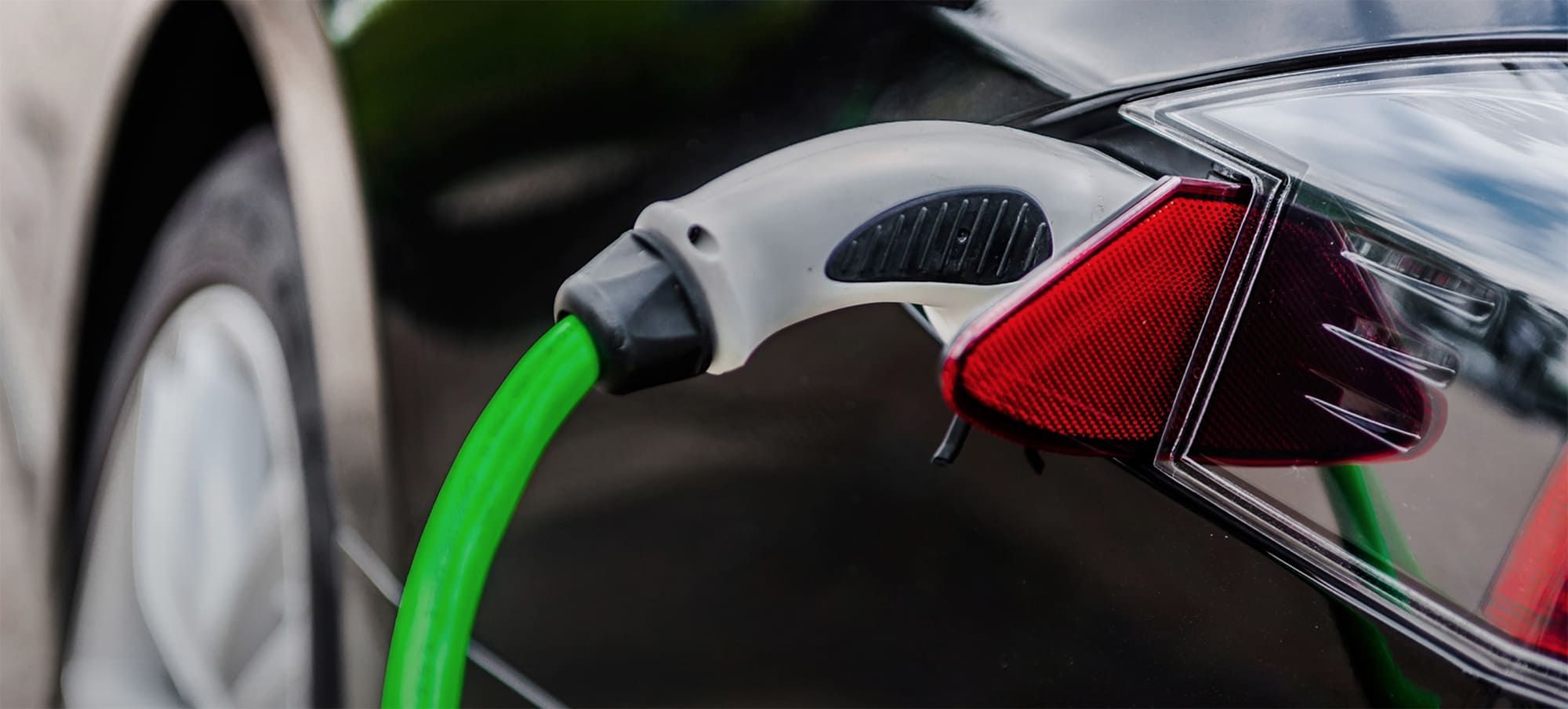 INTELLIGENT BUILDING FEATURES
Concord Brentwood will be the first community in Burnaby with electric vehicle charging outlets in every residential parking stall. That's in addition to a building-wide water-softening system, complimentary Wi-Fi on all amenities level, a touchless automatic carwash facility, intelligent thermostats in every home, as well as high-speed energy and time-efficient destination dispatch elevators.

Our vision and our projects are designed to stand the test of time. Smart building features improve efficiency and everyone's peace of mind. Sustainable growth, without compromising comfort, is our way of working towards a better environment for the communities we build and the world around us.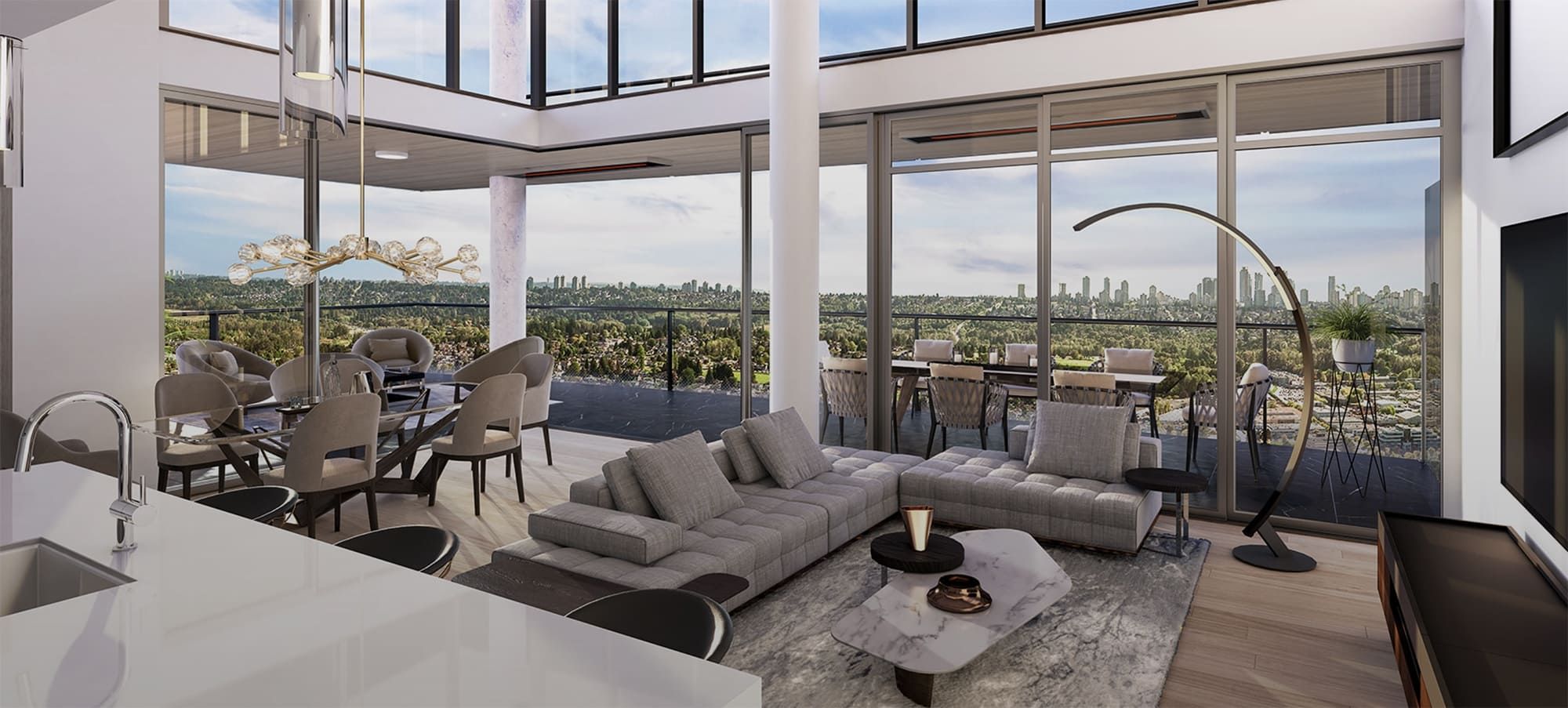 Interiors
Every aspect of your home is carefully designed and meticulously crafted. From gorgeous 8'8" ceilings, to central heating and cooling in every principal room, to intelligent thermostat that adjusts your living space temperature to give you optimal comfort year-round, to colour-coordinated wood-grain laminate closet with built-in smart storage system - we have all the details conveniently covered.
LUXURIOUS BATHROOM
The perfect ambiance is achieved with exquisite Calacatta porcelain tiled floor, shower and tub surround, polished chrome Grohe fixtures and elegant soft lighting. Your new functional custom-built cabinets and drawers will make organizing your toiletries a pleasure.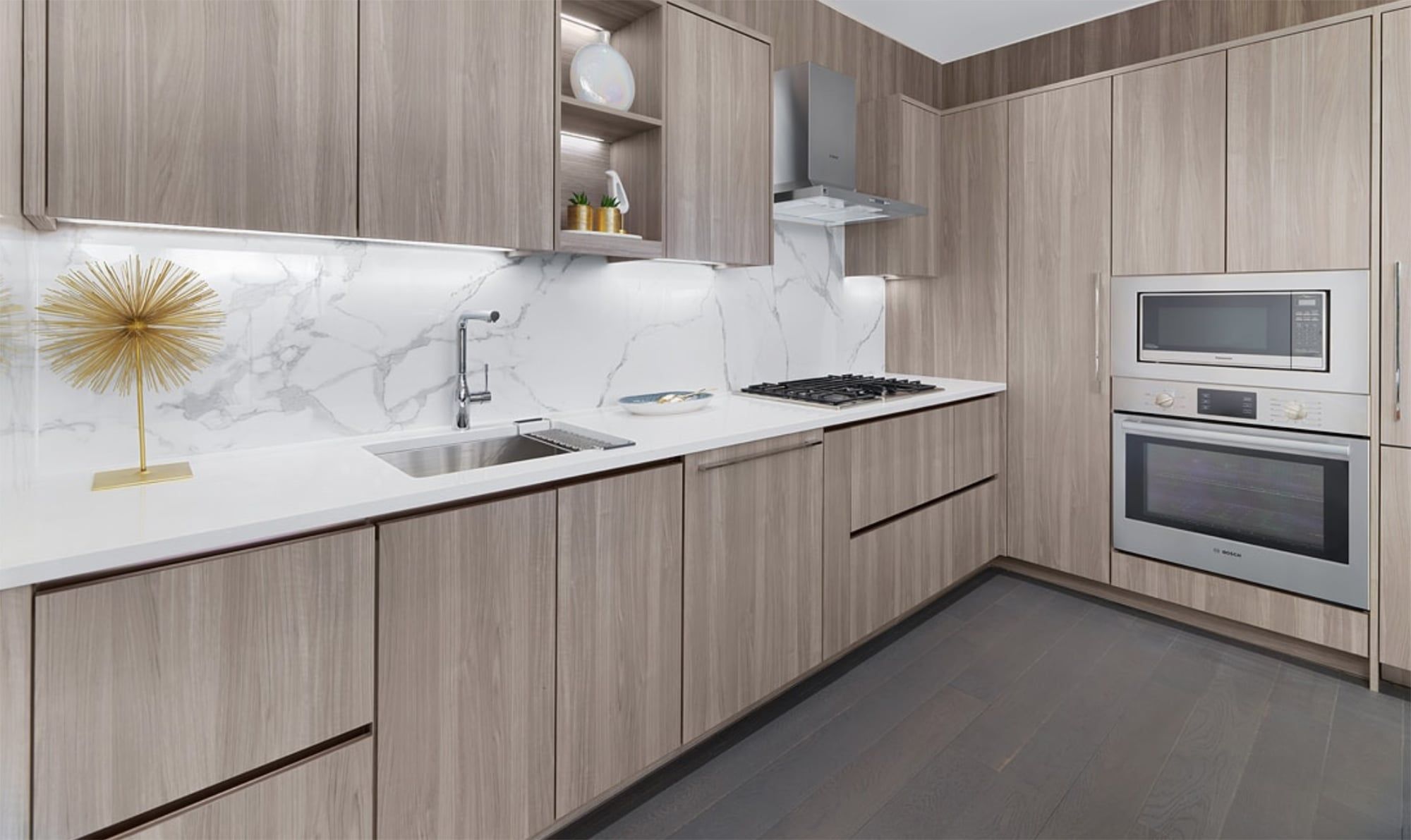 FUNCTIONAL KITCHEN
Your kitchen is enhanced with custom wood-grain laminate kitchen cabinetry and drawer organizers, generous shelving and storage solutions - for all your tableware and kitchen gadgets.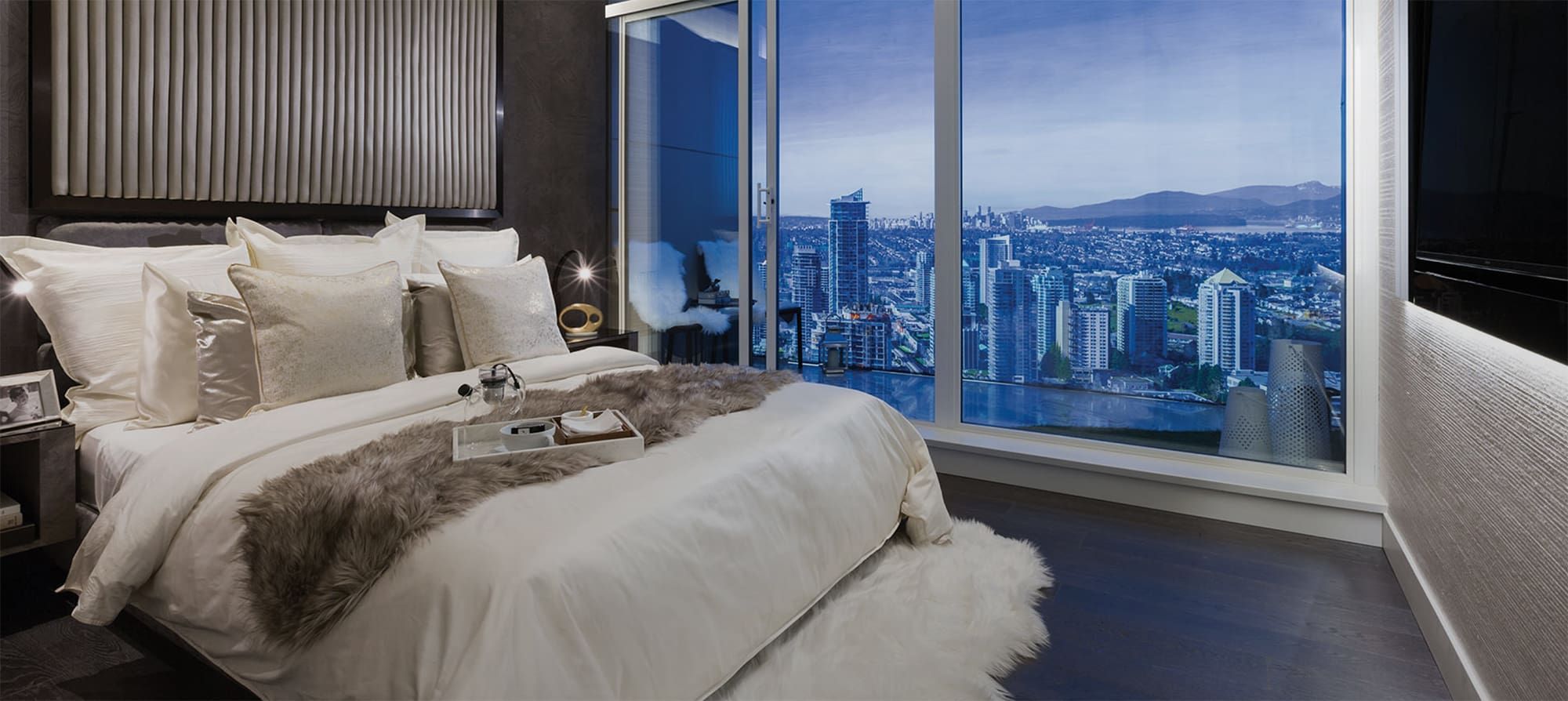 SMART STORAGE
Every aspect of a Concord home demonstrates thoughtful design to help you live better. Closet organizers with colour-coordinated doors and trims come standard, all harmonized by an elegant palette of colours and finishes to suit your modern lifestyle.
---
Interested In This Pre Sale?
Call, Text or Email for Floorplans, Pricing, and more details
---