PRE SALE - 50 Electronic Avenue, Port Moody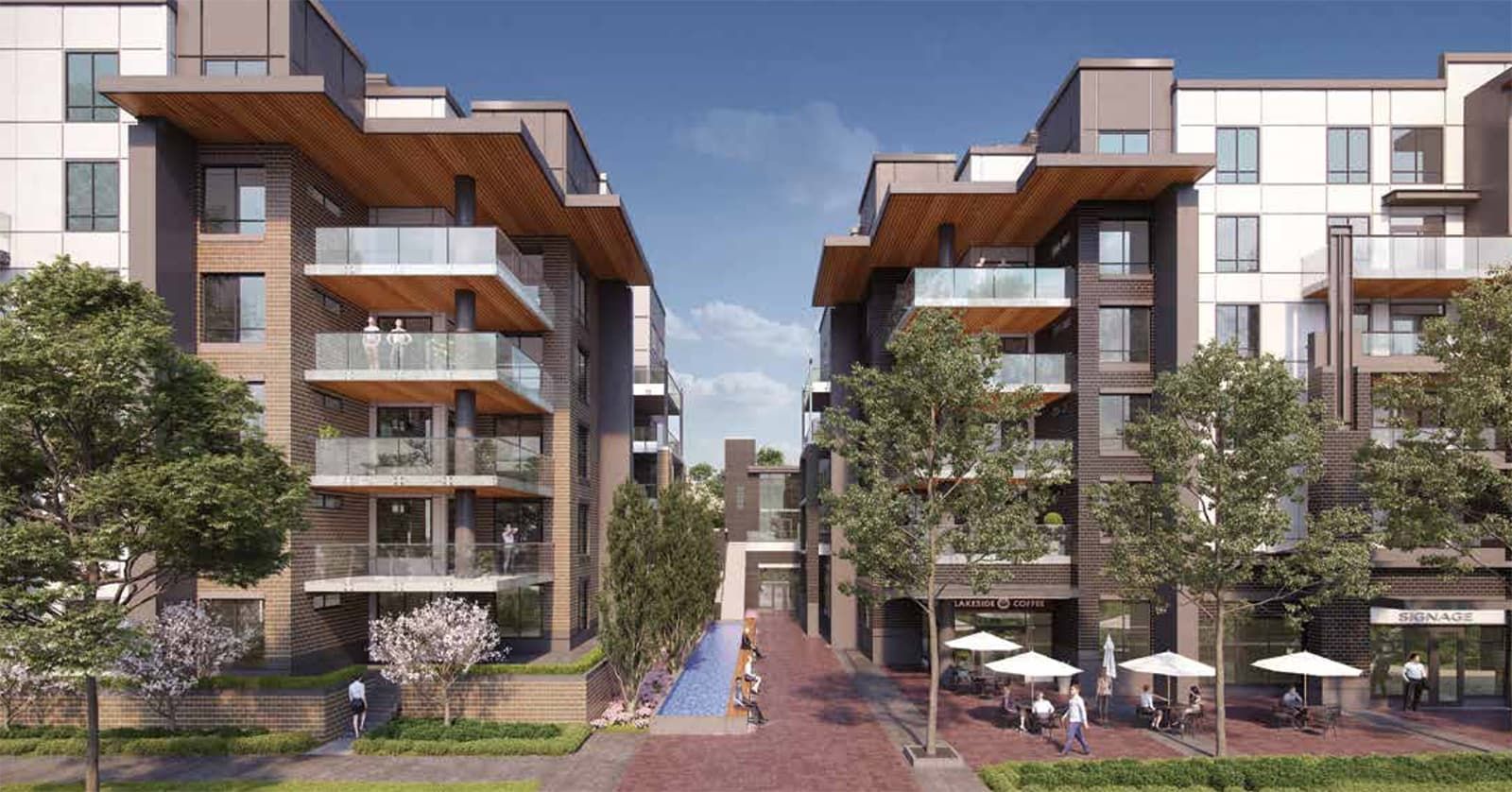 An animated new community of contemporary condominiums arrives in Port Moody. The well‐crafted homes are situated directly across the street from Rocky Point Park, where over 9 acres of nature include hiking and biking trails, a playground and spray park, an outdoor pool, a boat launch, and a recreational pier. Live just steps away from shops, restaurants, Brewers Row, the West Coast Express, and two Evergreen SkyTrain stations. Connect to all this right from home, where your views span across Burrard Inlet to the north and to Burnaby Mountain in the west. With so many choices, your life will find the perfect balance.
50 ELECTRONIC AVENUE'S MODERN ARCHITECTURE IS INSPIRED BY THE PROPERTY'S INDUSTRIAL HERITAGE
For decades, 50 Electronic Avenue was home to Chisholm Industries Ltd., a manufacturer of radios, black and white televisions, HiFi sets, and assorted electronic equipment. In its day, the company was the largest employer in Port Moody and a true technology innovator. The street adjacent to the manufacturing plant was named 'Electronic Avenue' to honour the company's contribution to the growth of the area. 50 Electronic Avenue pays homage to this 20th century pioneer.
WELCOME TO PORT MOODY
THE CITY OF THE ARTS IN AN IMPRESSIVE NATURAL SETTING
Wrapped around the eastern end of Burrard Inlet and backed by forested parklands and mountain trails, Port Moody's stunning setting is quintessentially West Coast. The protected harbour invites boating, kayaking, and paddle boarding, and Rocky Point Park along the shoreline offers walking and cycling pathways and a variety of recreational amenities. Complementing this natural ambiance is a modern urban centre with great shopping and dining, including a lively craft brewery scene. Trademarked as the City of the Arts, Port Moody celebrates creativity and culture year‐round, with ever‐changing gallery exhibitions, theatre productions, festivals, and public art in local parks. There is something for everyone here.
LIVE IN STYLE, CONNECTED TO EVERYTHING
Step from your spacious 1, 2, 3, or 4 bedroom home directly into a vibrant community. Street level shops, cafés, and services will be integrated into 50 Electronic Avenue to add enjoyment and convenience to everyday life. Just east of the community, a pedestrian overpass connects you to Moody Centre Station, where the Evergreen Line links to Burnaby, Surrey, Coquitlam, Richmond, and Vancouver, and the West Coast Express provides quick access to downtown Vancouver.
A brand‐new community has been created at 50 Electronic Avenue – and a great deal of it is focused on the outdoors. Anchored by the indoor amenities at Club 50, five distinct courtyards stretch across a one‐acre elevated, private backyard. With water features, plants, and trees, the space is beautifully landscaped to complement Port Moody's nature‐rich locale. Deepening your connection to the fresh air, select homes feature rooftop decks, your ultimate private sanctuary.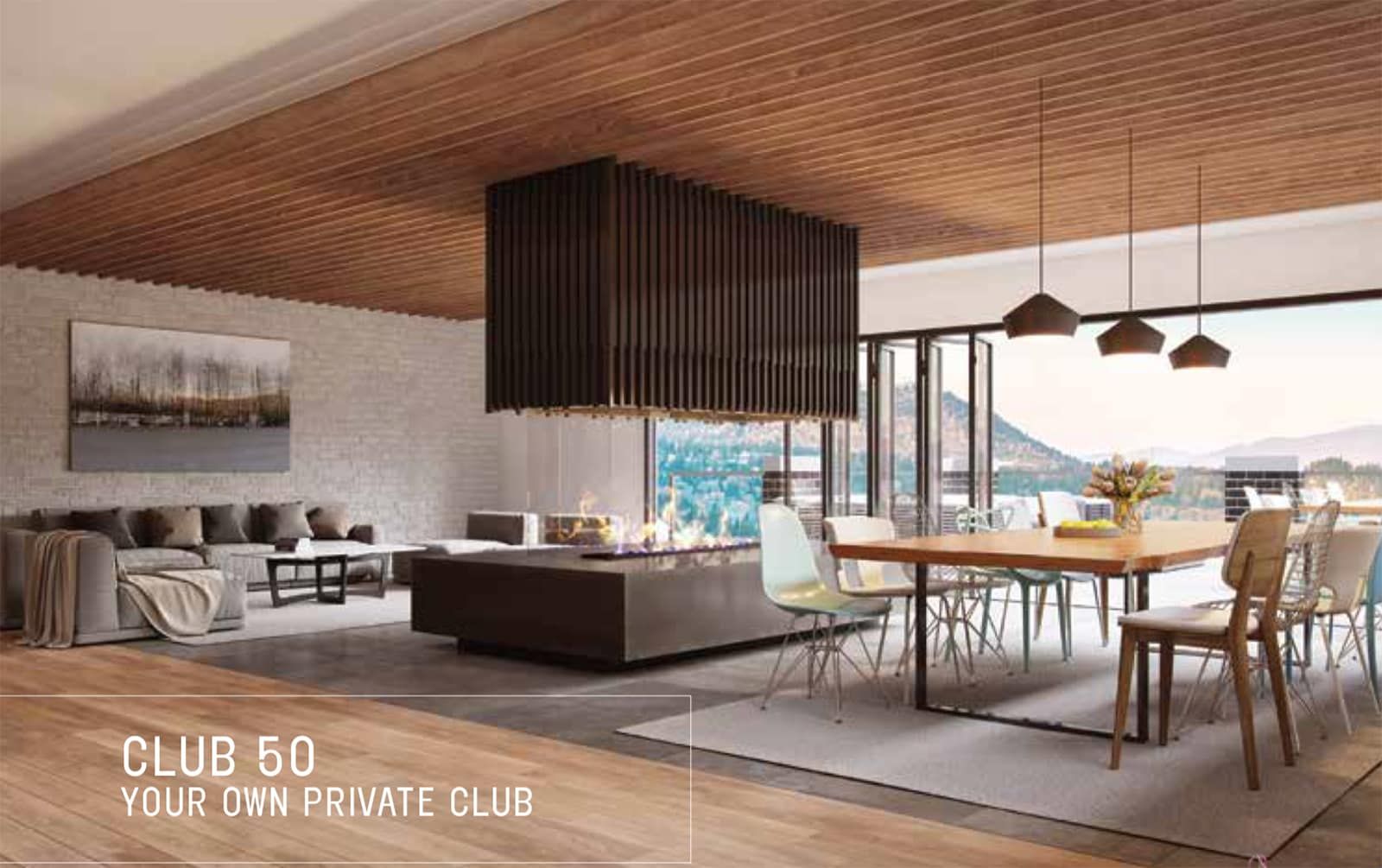 THE OUTDOOR AMENITIES CREATE A SENSE OF PLACE
The tranquil outdoor space, exclusive to residents, has been thoughtfully designed and landscaped to bring people together. The five courtyards create separate areas for relaxing or socializing, and there is always somewhere quiet to unwind. Play games with other families on the great lawn and watch your kids make new friends on the playground. Grow vegetables together in the urban gardens and share stories over dinner at the communal long table. Even your dogs will get to know each other, in the off‐leash area. It's the perfect setting to make lasting connections with family, friends, and neighbours.
THE COLLECTION OF SOCIAL, FITNESS, AND FAMILY AMENITIES IS BEYOND COMPARE
A dedicated three‐storey clubhouse, Club 50, offers over 9,000 square feet of spectacular amenities that will enhance any lifestyle. The ground floor features a fitness facility, peaceful yoga studio, dog wash room, bicycle repair room, and workshop. Venture to the second level and find an arcade, media room, co‐working space with two boardrooms, and indoor/outdoor youth activity area. On the third level, a luxurious lounge opens onto a large patio, and a guest suite welcomes visiting friends and family. Throughout the spaces high‐end finishes achieve a warmth and sophistication that will keep you coming back for more.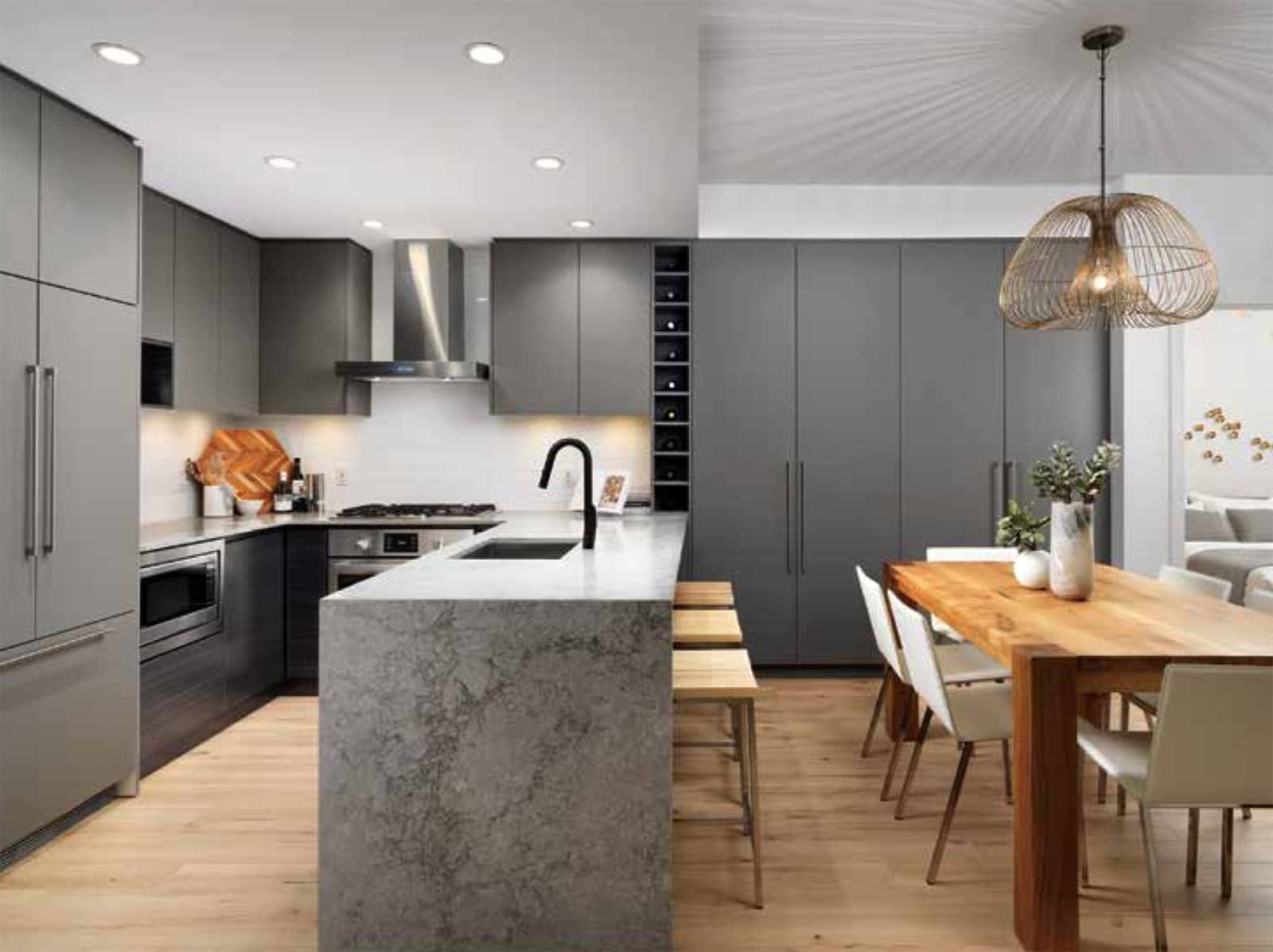 A CHEF'S KITCHEN
CREATE MEMORIES AND MEALS IN STYLISH KITCHEN SPACES
Modern kitchens are a focal point in every home, with elegant finishes and purposeful design. Details are in place to make an impact, such as waterfall edges on polished quartz countertops and custom millwork pantries. The collection of high‐end appliances includes Bosch wall ovens and Fisher & Paykel integrated refrigerators – each selected for optimal performance. These are the kinds of kitchens you've coveted in design magazines.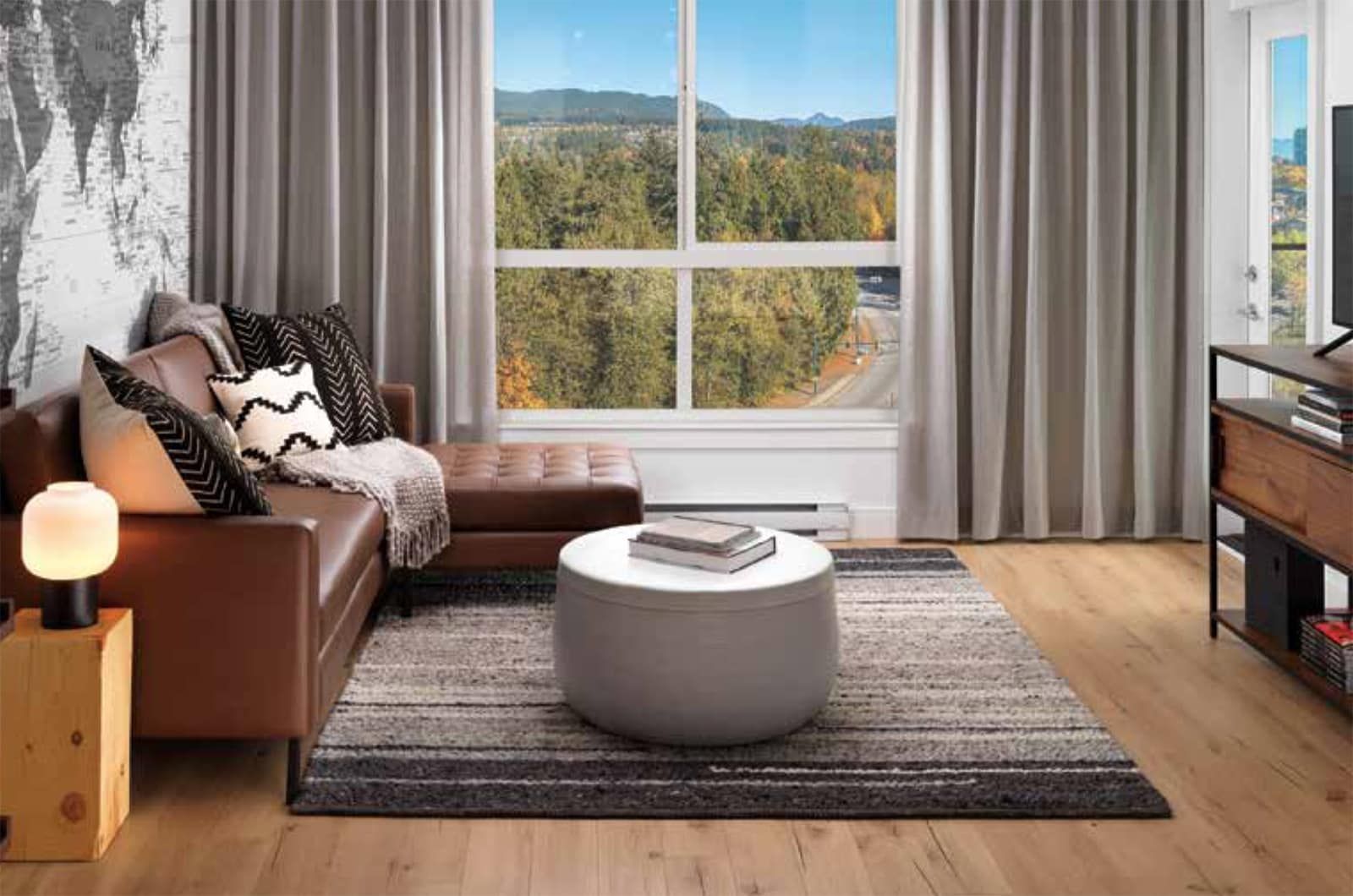 HOME LIFESTYLE
COMFORT IS ALIGNED WITH FUNCTION IN SPACIOUS HOMES
Every need and lifestyle is addressed in a variety of floorplans, each with 9‐foot ceilings and featuring plenty of natural light and space. Once you have found an ideal layout, personalize it for your tastes by selecting from two beautiful colour palettes. Interior living seamlessly transitions to private outdoor decks, where views and fresh air are always enjoyable. Appreciate the art of entertaining or a quiet afternoon watching Netflix – homes are designed for all elements of life.
ALL IN THE DETAILS
A lot of consideration is injected into these homes, from quality materials to unexpected features, with the goal of creating comfortable interiors that endure. Extra‐thick insulation and double pane windows lead to an even cozier environment. Handy USB outlets keep all your devices charged, while air conditioning, in select homes, maintains a desired climate. Storage is abundant, and it's easy to organize your belongings with custom millwork closets – you will especially appreciate the walk‐ins. Every inch of the home is designed for your wellbeing.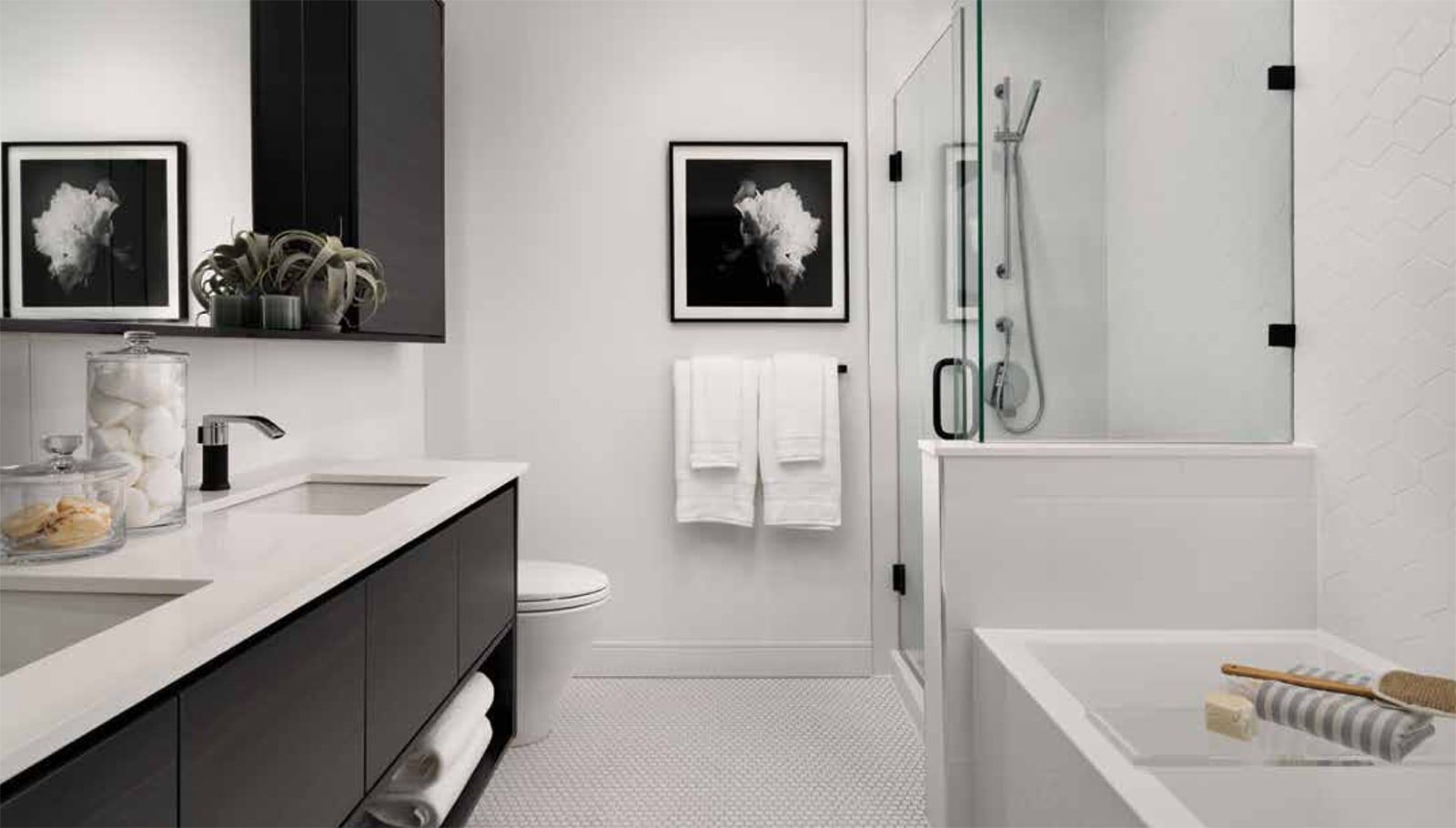 RELAXATION COMES EASY
Distinctive design continues in master ensuites and bathrooms, where hexagon porcelain tile flooring and framed mirrors make an impact. Custom designer medicine cabinets and additional millwork cabinetry keep everything you need discreetly at hand. Feel the refreshing spray of the shower or sink into a soothing bath. The experience is nothing short of indulgent.
---
Interested In This Pre Sale?
Call, Text or Email for Floorplans, Pricing, and more details
---