New Westminster Investment Opportunity
INVESTMENT SUMMARY
Western Canadian Properties Group XI Limited Partnership is proud to offer investors an opportunity to invest in a real estate property development in one of Canada's hottest real estate markets.
The Partnership will purchase a medium-density multi-family development site at the corner of Fourth Street and Carnarvon Street in New Westminster, across the street from the Columbia SkyTrain Station; and develop the site into a proposed 16-storey, multi-family condominium building complete with secure underground parking with an expectation of closing sales during February 2021.

PROPERTY OVERVIEW
The Columbia Residences is proposed to be a 16-storey, concrete condominium building in historic Downtown New Westminster and right across the street from the Columbia SkyTrain Station. Within walking distance to coffee shops and restaurants, parks and schools it is ideally located. Featuring clean and contemporary fixtures including quality cabinets, wide-plank laminate flooring and quartz counters PLUS underground parking and full size in suite storage.
The proposed business plan is to design, build and sell condominiums to individual owners with sales completing in February 2021.






SITE OVERVIEW
Address: 45 Fourth Street
City: New Westminster
Province: British Columbia
Total Units: ~100
Proposed Sellable Square Feet: 78,800
Proposed Buildable Square Feet: 86,988
Number of Buildings: 1
Land size: 21,747 square feet
Parking: ~110 underground
Completion: February 2021




SUITE MIX
10% Studio
45% 1 Bedroom
15% 1 Bedroom + Den
15% 2 Bedroom
10% 2 Bedroom + Den
5% 3 bedroom (PH + Sum PH)

PHENOMENAL LOCATION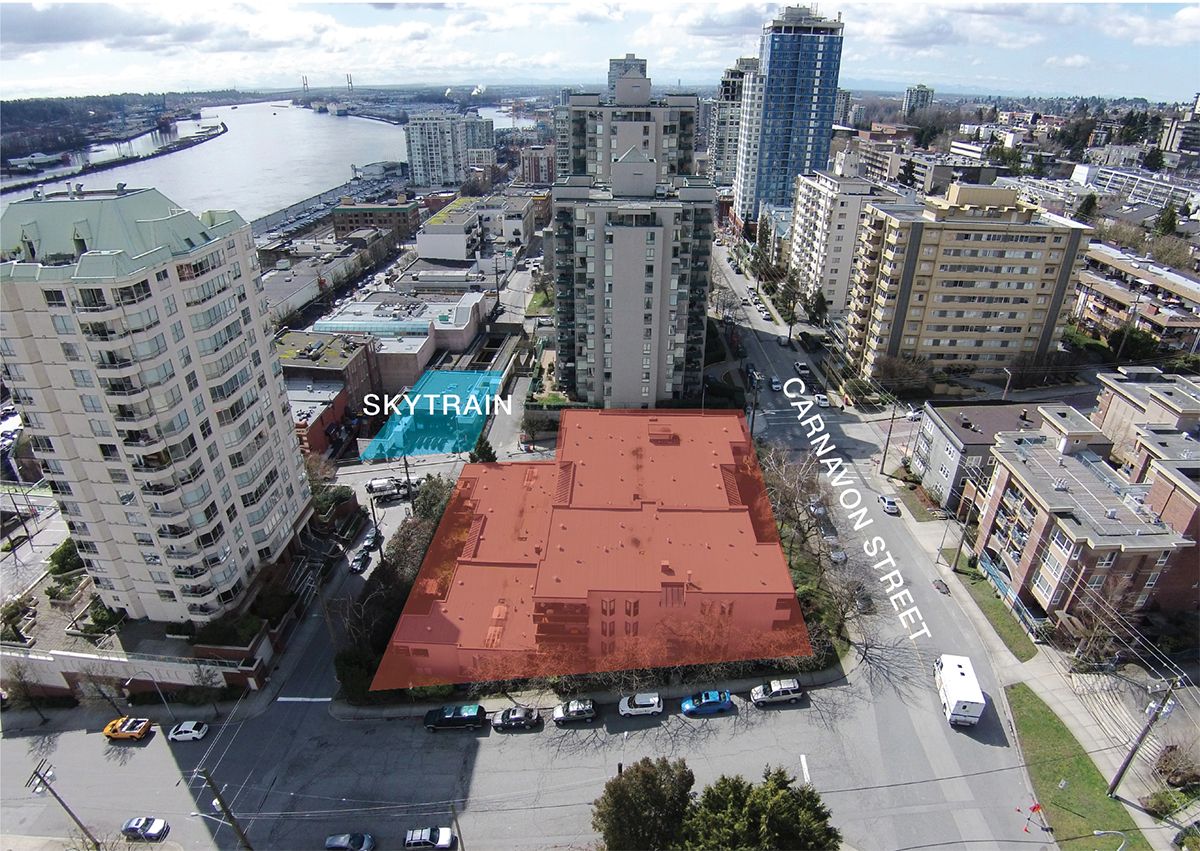 Columbia Residences is located along the south side of Carnarvon Street and the east side of Fourth Street. It is across the street from the Columbia SkyTrain Station and approximately 700 metres to the New Westminster SkyTrain Station. The property is located in the heart of Downtown New Westminster. This location has a walk score of 93 (Walker's Paradise) and a transit score of 80 (Excellent Transit). By SkyTrain it is only 31 minutes to Downtown Vancouver, 21 minutes to Metrotown, and 13 minutes to Surrey Central City.
Residents in this area enjoy a multitude of amenities located within a very short walk of the Columbia Residences including: riverside parks, restaurants, fashion, furniture, grocery shops, schools and entertainment. Downtown New Westminster is enjoying an exciting waterfront revitalization, therefore by the time residents move into the completed project the waterfront parks and re-development will be nearing completion, adding to the local amenities.
BUILDING
The proposed form of redevelopment is a 16-story, concrete condominium building with a large ground orientated podium and a slimmer tastefully designed tower. Although the exact number of units are unknown at this time (approximately 100), it is anticipated to be an average unit size of 788 sq.ft. overall ranging from Bachelor to 3 Bedrooms with a predominate majority of the building being made up of 1 Bedrooms and 1 Bedrooms plus Dens.
The Bachelor, 1 Bed, and 1 Bed plus Dens units will be geared towards Investors and First Time Home Buyers with tasteful, simple designs and finishes in smaller, compact floorplans.
The 2-Bedroom units will make up approximately 25% of the building and will be designed to sizes and makeups that are functional and focused on family living.
The 3-Bedroom units will make up approximately 5-10% of the building and will be focused on the upper floors with southern exposure views which will be spectacular.
The general finish level of the project will be a mid-level specification including stainless steel appliances, laminate flooring in the general living areas, carpet in the bedrooms and ceramic tile in the bathrooms.
The higher floors will have a slightly higher-levels specification in terms of finishing materials and will cater to family living.


VIDEO

PRO FORMA


INVESTMENT HIGHLIGHTS
NEW WESTMINSTER IS ONE OF CANADA'S MOST DESIRABLE DEVELOPMENT MARKETS.
PHENOMENAL LOCATION – SkyTrain Station is across the street.
OPPORTUNITY TO GET IN ON THE GROUND FLOOR AND INVEST AS A DEVELOPER.
CLASS A LIMITED PARTNERS RECEIVE 90% PROFIT SHARE UNTIL THEY HAVE ACHIEVED AN 18% ANNUALIZED RETURN ON THEIR INVESTMENT. After that Class A Limited Partners will receive 10% profit share.
WCPG BELIEVES INVESTORS CAN REALIZE A RETURN ON INVESTMENT AS HIGH AS 20% PER YEAR.
HOW TO INVEST
To learn more about this investment you can reach me at 604.809.0834 & [email protected]