March 2020 Vancouver Real Estate Market Update
Average Home Prices Increase For 6th Straight Month
Metro Vancouver's housing market saw steady home buyer demand to begin March and a levelling off of activity as the month went on and concerns about the COVID-19 outbreak intensified.
The average home price in Vancouver increased for a six month in a row with the median sales price hitting $1,033,700. This represents a $43,100 increase since the September 2019 low of $990,600. This also represents a 2.1% increase over this time last year.
Home sales in the GVRD totalled 2,524 in March 2020, a 46.1% increase from the 1,727 sales recorded in March 2019, and a 36.9% increase from the 2,150 homes sold in February 2020.
Last month's sales were 19.9 per cent below the 10-year March sales average.
The first two weeks of the month were the busiest of the year with heightened demand and multiple offers becoming more common, but this changed as concerns over the COVID-19 situation grew.
For example, daily residential sales were 138 on average in the first ten business days of the month, but in the final ten business days of the month, the daily average declined to 93 sales.
The first 6 days in April averaged only 65 sales per day.
As many of the sales recorded in March were in process before the provincial government declared a state of emergency, we'll need more time to pass to fully understand the impact that the pandemic is having on the housing market.
For all property types, the sales-to-active listings ratio for March 2020 is 26.3%. By property type, the ratio is 21.1% for detached homes, 33% for townhomes, and 28.9% for apartments.
Generally, analysts say downward pressure on home prices occurs when the ratio dips below 12 per cent for a sustained period, while home prices often experience upward pressure when it surpasses 20% over several months.
This put all property types into a Sellers market for the month of March 2020.
Entering April, some sellers have pulled their listings off the market and many of those who were about to list have decided to wait.
This is resulting in a 25% reduction in listings compared to last year.
With April 2020 sales trending at least 50% less than the average for the month, the Vancouver Real Estate market is clearly being affected.
The big question of course is, then, when will the reduction in volume start to affect prices?
If the first week of April sales are any indicator, with the average sale price being $930,000, lower prices may have already begun.
AVERAGE HOME PRICE OVER PAST 12 MONTHS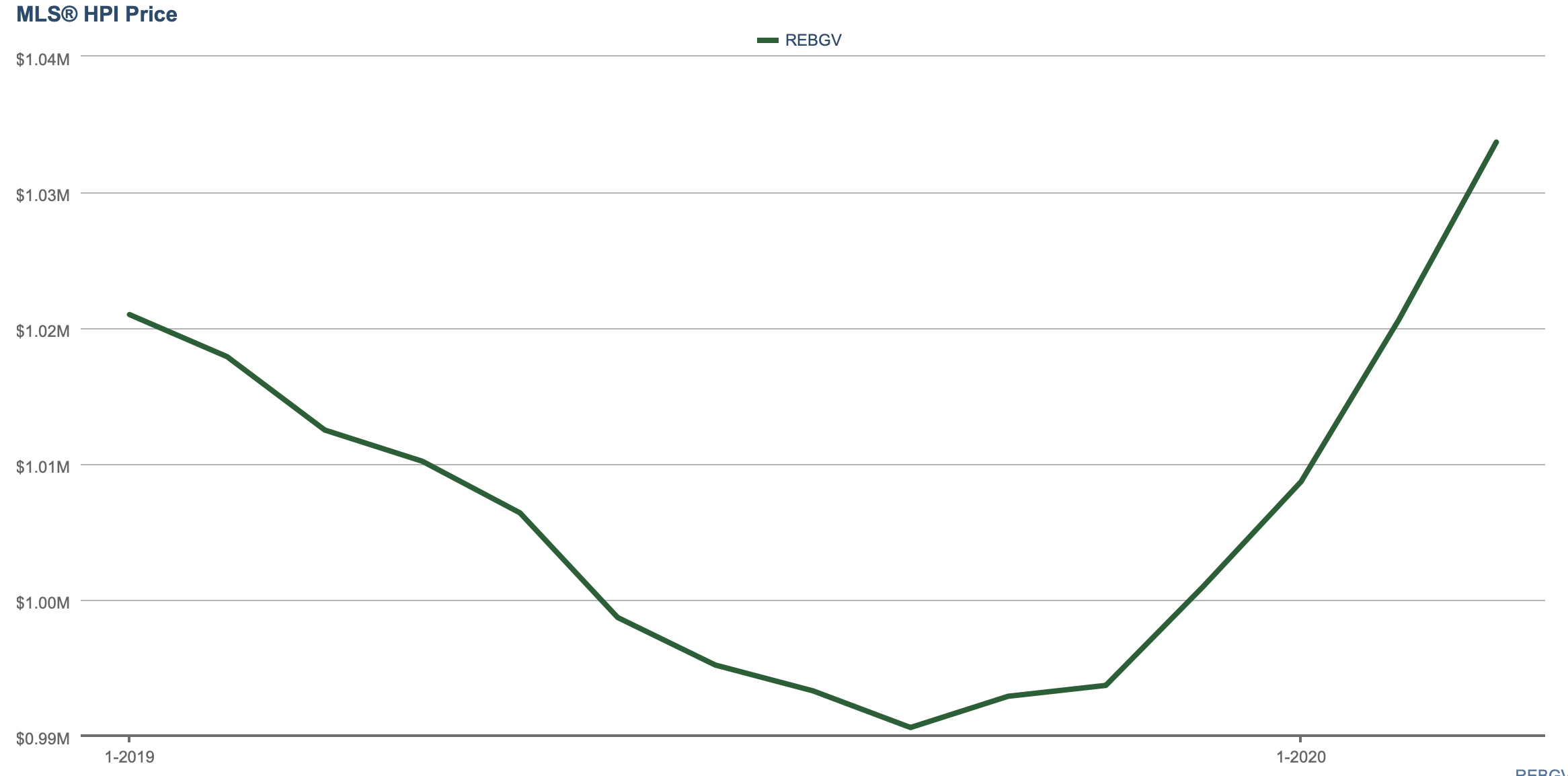 Vancouver West
Focusing in on the Vancouver West area (from Downtown to Marpole, and everything West of Ontario St.)

DETACHED HOMES
Sales of detached properties in March 2020 reached 107, a 67.2% increase from March 2019. The benchmark price for detached properties is $2,942,200. This represents a 2.8% decrease from March 2019.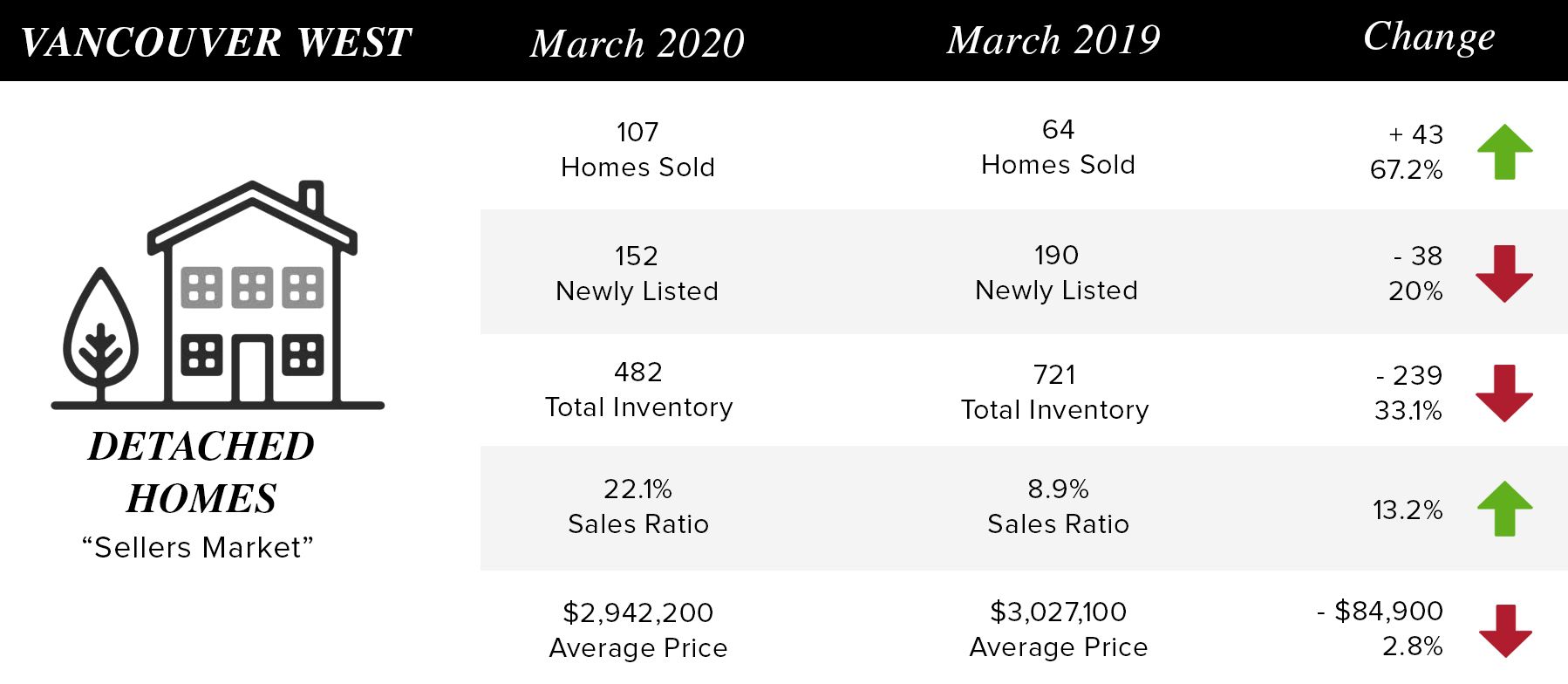 TOWNHOMES
Sales of Townhomes in March 2020 reached 49, a 75% increase from March 2019. The benchmark price for Townhome is $1,133,500. This represents a 2.2% increase from March 2019.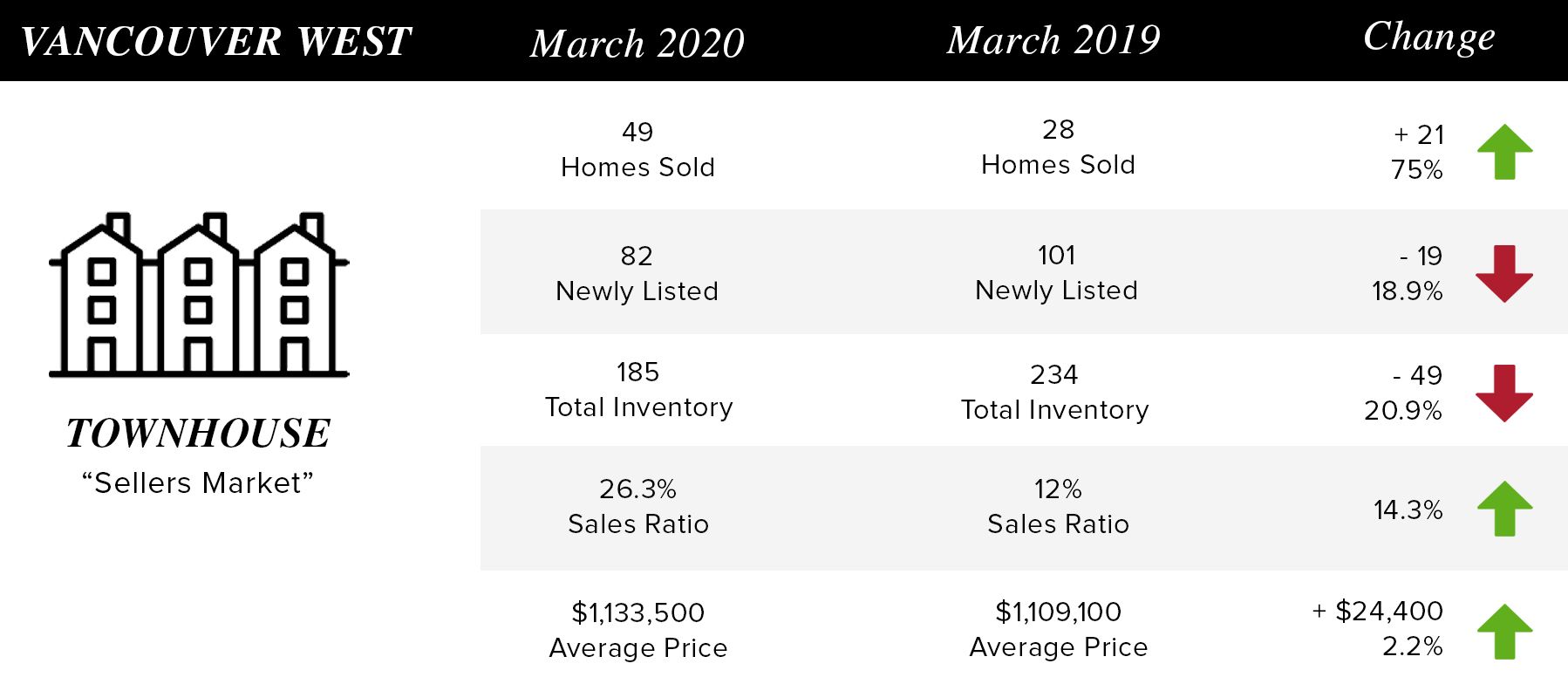 CONDOS
Sales of Condos in March 2020 reached 261, a 40.3% increase from March 2019. The benchmark price for condo properties is $796,100. This represents a 1.5% increase from March 2019.