INVESTMENT OPPORTUNITY - Woodstream in Mesa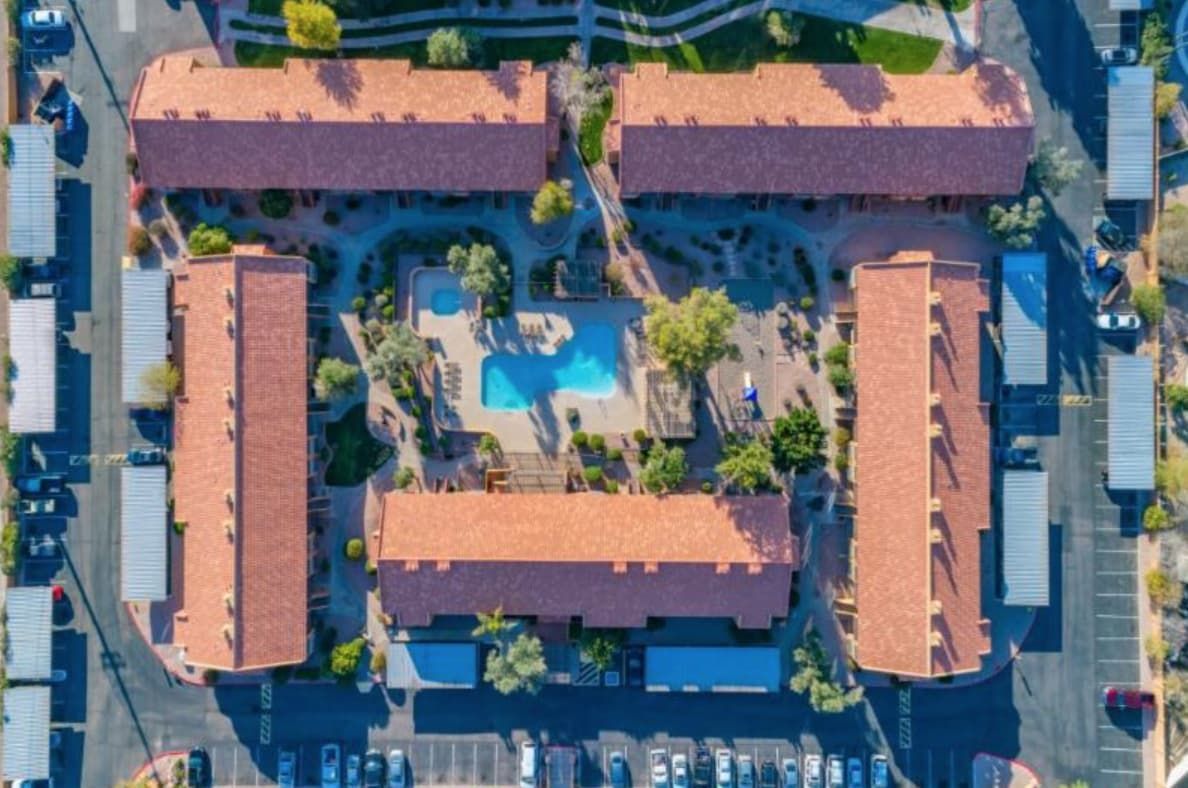 Woodstream Village is our 46th acquisition, and our eighth acquisition in Mesa, Arizona. The investment presents an opportunity to double your equity by investing in a cash-flowing property in one of North America's strongest real estate markets. Western Wealth Capital believes investors in Woodstream Village could realize annualized returns as high as 19% and up to 100% of equity returned within four years.
Mesa is the second largest city in Metro Phoenix and has a vacancy rate more than 1% lower than the average Metro Phoenix vacancy rate. To learn more about how we choose a market and why we continue to choose Mesa, click on the button below to view our 'Why Mesa?' overview.

Prime Location
Woodstream Village is 2-miles north of Downtown Mesa, 10-miles east of Tempe, and just 10-miles from Old Town Scottsdale - providing countless recreational and employment opportunities.
Conveniently located near the METRO light rail, the Loop 202 and the US-60 for easy access to every city in the Metro Phoenix area. In addition to this, there are local city parks and a consolidated 18-mile long canal path adjacent to Woodstream Village for ample opportunity to experience recreational activities.
The property is just 3 miles from Mesa Riverview (1.3 million sf of retail space) and 6 miles from Tempe Marketplace (1.3 million sf of retail space).
Western Wealth Capital properties located in Mesa have a proven track record of successful returns. With growth in the submarket projected to continue and the implementation of WWC's value-add program, Woodstream Village has the potential to achieve these same strong results.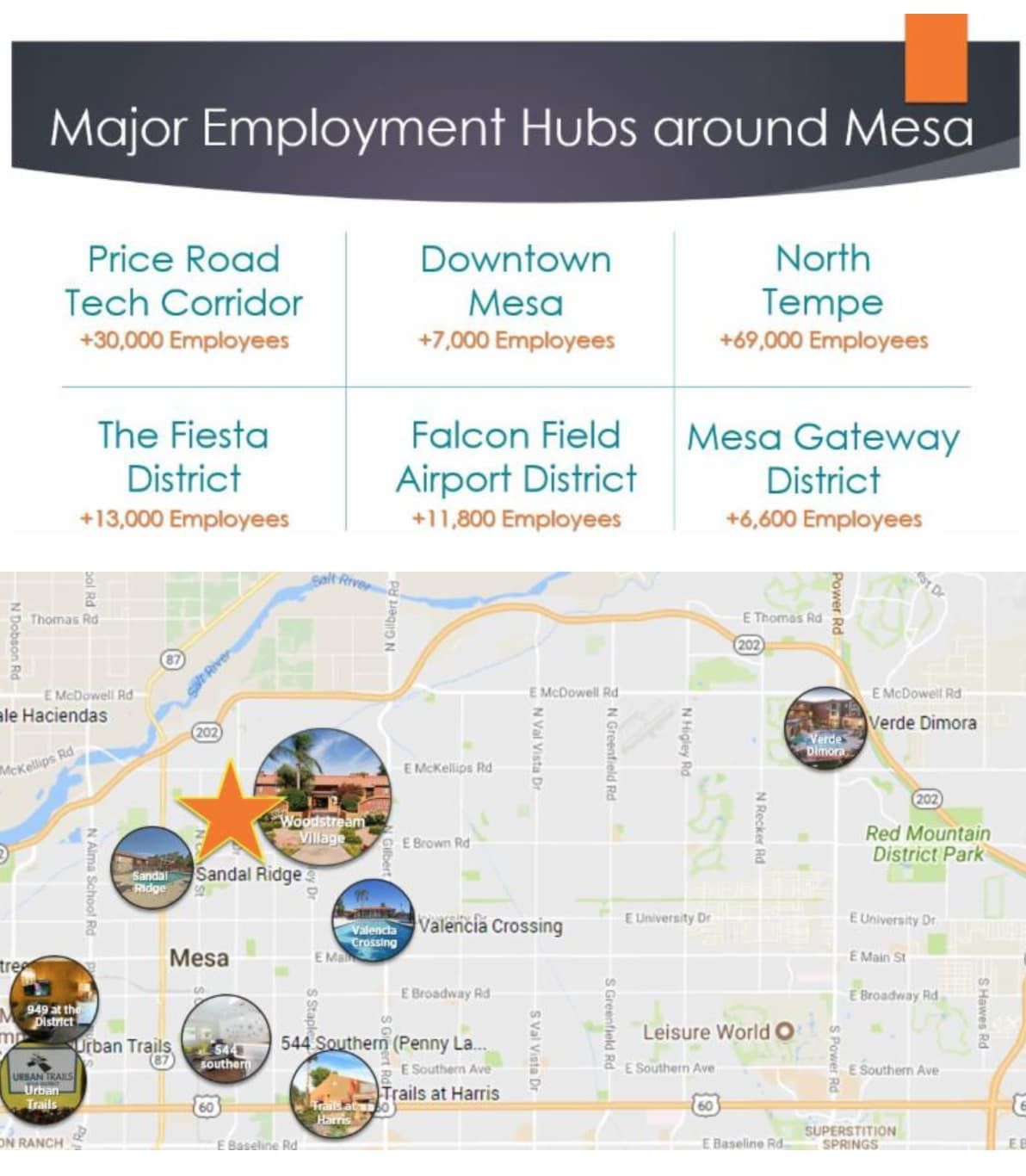 Investment Highlights
High rental demand for the North Mesa market - there has been 3.48% growth rate last year alone.
Low vacancy rate in the submarket.

The Metro Phoenix vacancy rate average is 5.86%, and Mesa sits well below this with a vacancy rate of 4.57%. Occupancy at Woodstream is strong at 95%.
With an 11.1% population growth rate projected between 2010-2022 (City of Mesa, 2018), Mesa is one of the fastest growing cities in Phoenix.
Mesa will invest $10 Million into expanding the Elliot Road Tech Corridor, dubbed the next Tech Hub in Phoenix, and home to a $2 billion Apple "command center".
Rent Disparity
The current owners are operating with significant disparity between rents of like-units across the property.

The average rent disparity across all units (1 BD & 2 BD) at Woodstream is $150 p/m.
Western Wealth Capital intends to reduce that disparity using our proven lease management approach.
These actions have the potential to increase the value of the asset by approximately $5.6 million, simply by normalizing and bringing rents to market.
Value Increase
The majority of units at Woodstream Village still retain their 1980's interior fittings, making the units the ideal candidate for our Gold Star interior upgrades.
Western Wealth Capital plans to complete interior upgrades to 100 of the 156 units at Woodstream. We have modeled a projected $150 per month per unit increase in rental income for upgraded units.
These Gold Star Interior Upgrades have the potential to increase the value of the asset by approximately $3.6 million.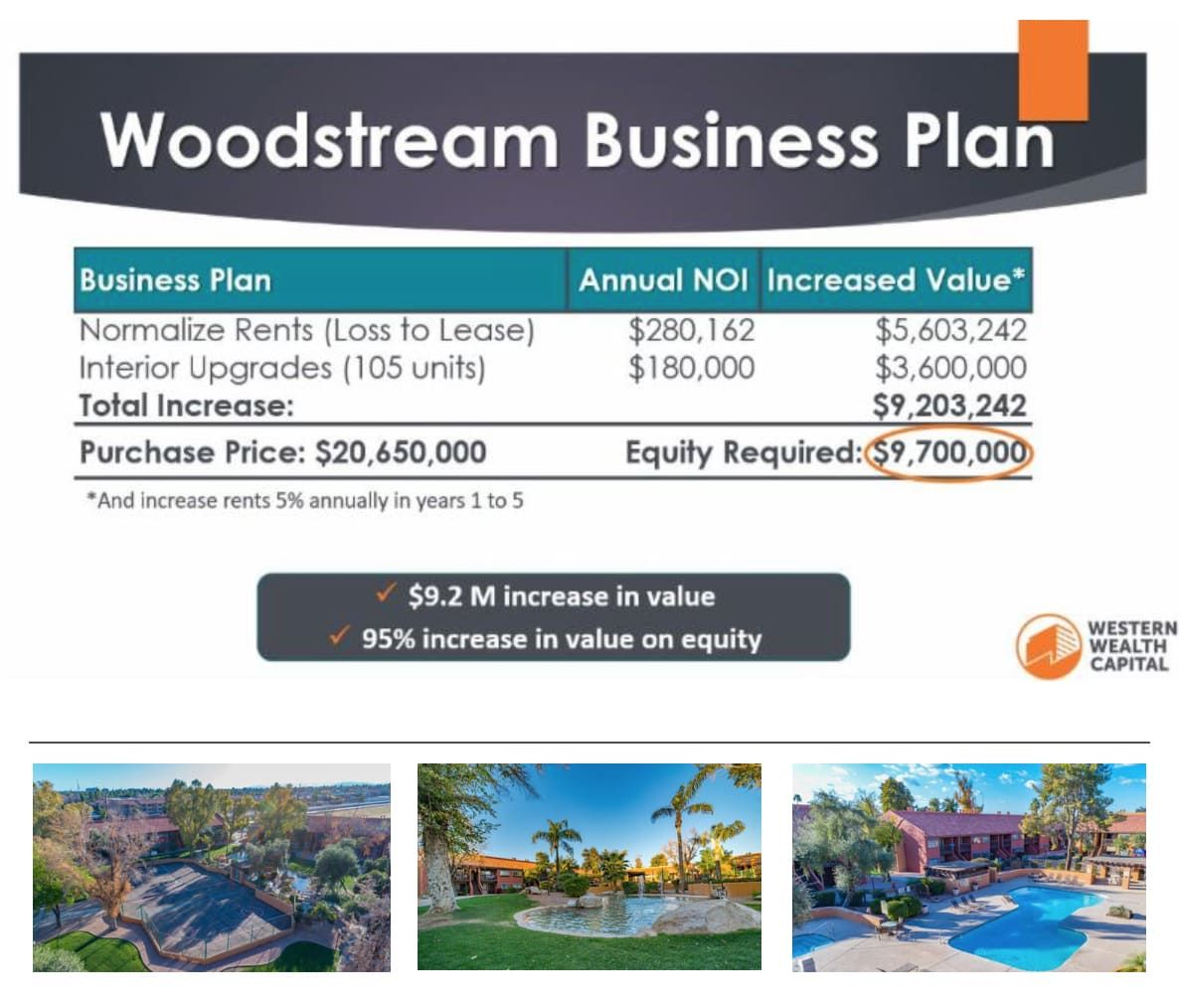 ---
If you would like to learn more about this opportunity