Cash Flowing Property with only 20% Down
There are a number of potentially great investment opportunities in Abbotsford that cash flow with only 20% down. I like Abbotsford as an investment area thanks to the steady job market, high rents, strong economic forecast and property price point.
If you're looking at a long term buy and hold property (5+ Years) it's great to find a property that has positive cash flow, is in a desirable area in a part of the province that has above average incomes and rents. You can simply purchase a property, put great management in place and enjoy watching your tenants pay down the mortgage while the property appreciates in value.
Here is an example of a property available today that cash flows with the minimum required 20% down.
35172 LABURNUM AVENUE, Abbotsford Listed at $799,900.
I really like this 5 Bedroom home thanks to its desirable Sandy Hill / Bateman area location, the Legal 2 Bedroom suite and that it is only 14 years old and in great shape.
Upstairs would rent for around $2,400 and the suite would get $1,200.
With all expenses & revenues in place, this is how the property performs: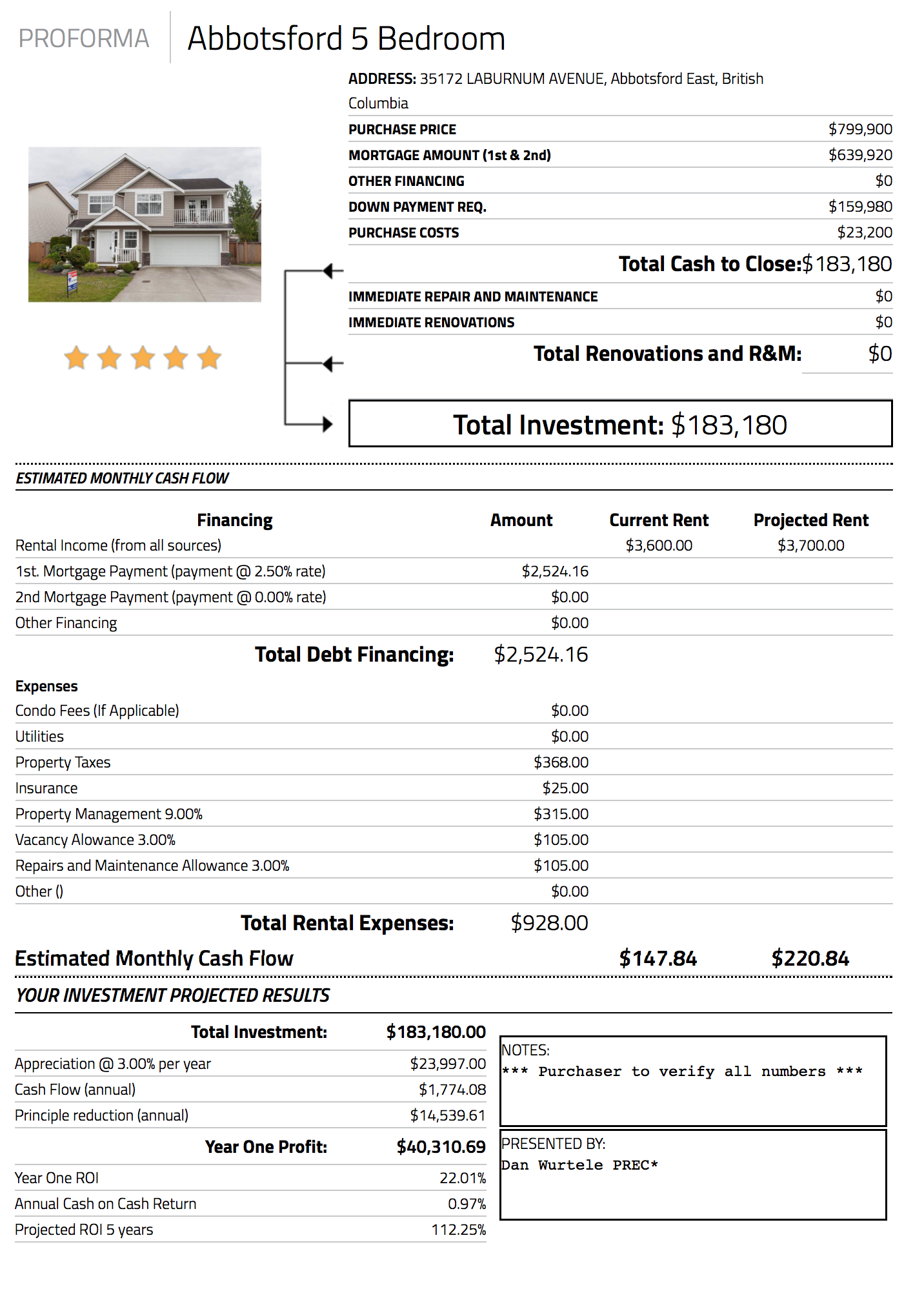 What this says is that for an initial investment of $183,180 (20% down plus closing costs and reserve fund) and based on a 3% appreciation, you can expect to receive around $40,000 per year based on a 5 year investment. Your $180,000 cash in at the beginning could make $200,000 in profit. That equates to 112% ROI.
If you have any questions about this property or would like to see how the numbers work on a different one, please feel free to reach out to me.
I've been investing in Real Estate for 6 years and really enjoy sharing what I've learnt.